Story Time STEAM with JC Ortega Esquinca
Hey parents! Librarians! Educators!
JC Ortega Esquinca is a librarian who uses Story Time STEAM in Action / en Acción to engage early learners in math concepts during story time. Watch JC's video to learn how you can include these ideas in your own story time – then give us your feedback!
Libros
¡Solo pregunta!: Sé Diferente, Sé Valiente, Sé Tú (Rafael Lopez & Sonia Sotomayor)
Round is a Tortilla (Roseanne Thong and John Parra)
Juanita: La niña que contaba estrellas (Martina Peluso)
Una nueva cosecha (Cristina Expósito Escalona and Miguel Ángel Díez)
Abuela's Weave (Omar S. Castañeda)
What Can You Do with a Paleta? (¿Qué Puedes Hacer con una Paleta?) (Carmen Tafolla and Magaly Morales)
Libro De Las Preguntas (Pablo Neruda)
Agua, Agüita (Jorge Tetl Argueta)
Read with Us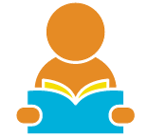 JC's video is recorded in Spanish using materials that were written in Spanish. For other examples in both Spanish and English, please check out the videos by Gabi and Jamie.
Watch Gabi's video!
Watch Jamie's video!