Issaquah School District leverages Washington STEM tools for data informed decision making
Career Technical Education (CTE) are classes that are intended to help prepare students for the academic and technical workforce, many of which involve STEM.
CTE courses are introduced in middle school and continue throughout high school with classes ranging from Automation and Robotics to Woods Technology. These courses are designed to expose students to different career pathways that are available with the education and skills they are learning in classrooms.
In Washington, every high school student must take a CTE course to meet graduation requirements. Ideally, students select a CTE course that aligns to their personal interests, while preparing them for an in-demand, family- wage job. Around two years ago, to better streamline their CTE course offerings, Issaquah School District began to incorporate Washington STEM's Labor Market & Credential Data (LMCD) tool within their Pathway Advisory Committees (PAC), who oversee the high school STEM programs for the district.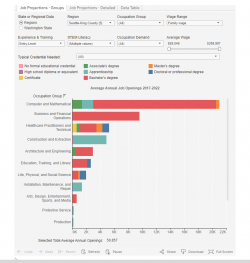 In order for the district to get approval for the CTE courses they offer, there must be evidence that the courses will be relevant and viable career options for students in the future. That is exactly what the Labor Market and Credential Data tool has helped them determine.
One of the ways Washington STEM works to advocate for equity in STEM is by using measurement and data to identify and overcome barriers to opportunity for students. Washington STEM compiled data on future job projections that will provide family wage salaries across Washington which is what the LMCD identifies. This allows teachers to advise students to make informed and intentional decisions about what kinds of family-wage careers are available in their region.
In the Spring of 2019, Issaquah School District introduced the LMCD tool on their CTE website in order to provide easy access for anyone looking to use the data, whether that be students who are curious about future in-demand careers, or parents who may want to have a deeper understanding of the career landscape in their backyards. Prior to implementing the tool on their website, the teachers in the district used it in various ways including advising students in their High School and Beyond Plan to help inform students of the different pathways that are available. Teachers also use the tool to show students the careers that relate to the CTE electives they are teaching.
"As a former classroom teacher, I am fully aware that anytime a student can make the connection to where they are going to use this [information] in real life, it creates relevancy. Having students look at the Labor Market & Credential Data tool does just that," says Issaquah School Districts CTE & Secondary STEM Director, Lesha Engels.
The CTE courses offered in the district are popular among students. Engels says CTE enrollment is up 27% as a department from the 2018-19 school year and are now looking to implement different electives that are relevant, such as a Mechatronics or Cybersecurity course.
"Regardless if we are trying to help students to see variety of post-secondary options that exist or we are trying to help them find something they are passionate about pursuing …it's about lighting that spark and allowing a student to connect with something that's interesting to them," says Engels.
Washington STEM is excited to be a part of the systems that helps students find their passion as early as middle school, as well as provide tools to help districts improve the classes they offer for the betterment of their students. Our Labor Market and Credential Data tool is on our website here and is available to teacher, students, and anyone else curious!
For more information on how to use the Labor Market and Credential Data tool, please refer to our quick start guide.