Washington STEM and Jobs for the Future develop a policy guide for Career Connected Learning
Career connected learning has the potential to create meaningful and powerful connections between what's learned in the classroom and the skills needed to thrive in any given industry.
That's why we teamed up with Jobs for the Future (JFF) to develop a guide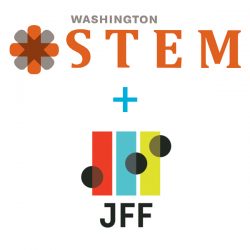 for policymakers, education leaders, and business and industry stakeholders to better understand career connected learning : what it is, its benefits, why it matters, and how to support efforts to build and scale a career connected learning system in Washington so that all students can thrive in their pursuit of a meaningful, family-wage career.
The journey to success doesn't look the same for every student. This holds true in Washington state where the skills all students need to succeed are continuously changing. With this in mind, there must be more ways to achieve success than the traditional school-college-job framework.
That's where career connected learning comes into the picture. This model connects and integrates K-12 education, post-secondary education, and career-focused learning so that classroom-based instruction is paired with relevant, meaningful work experiences. Too often, students who are privileged have exposure to different networks, while students of color, girls, and those living in rural areas lack that access. Career connected learning strategizes to bridge that gap and provides access for students furthest from opportunity to gain social capital and networking opportunities.
This can range from having job professionals visit student in the classroom,  high schools partnering with companies for internship programs, or job shadowing opportunities.
Not only does career connected learning benefit young people, but also employers. It helps students access meaningful and relevant real-world learning experiences where they cultivate and apply and technical skills in real-world settings, and it also helps employers develop and access a talent pool that is prepared to meet their current and future needs.
How can you support career connected learning and prepare all student for jobs of the future? There are several ways, depending on who you are. You can learn more about ways to integrate it into your life in our brief attached below.
Read the full brief here.