West Sound STEM and Career Connect Washington Host Second Regional Summit
Updates from the West Sound STEM Network: Career connected learning grows through cross-sector collaboration at the second regional CCL Summit.
"We must think differently about access to career pathways for our youth," said David McVicker, former Superintendent of Central Kitsap School District. "When high school students have the chance to engage in job shadows, internships, and apprenticeships, they gain a hands-on perspective into potential careers. That's why the work West Sound STEM is leading is so important. We need to support this."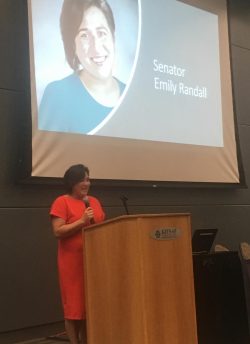 Developing successful apprenticeship programs and other career connected learning opportunities on the Kitsap and Olympic Peninsulas was the focus of this year's Regional Career Connected Learning Summit, hosted by the West Sound STEM Network on June 3. More than 80 regional leaders, including business and industry, education, county, military, federal, Washington Workforce Board leadership, Washington STEM leadership, and legislators from across the state, attended the summit.
"I can think of no more important work going on at this very moment than ensuring our youth have paths to meaningful, sustainable careers that guarantee lifelong earning power," said Robert W. Andrade, Jr., General Manager, Siemens Industry, Inc..  "West Sound STEM Network is leading this work."
Legislators from the region joined the Summit to show their continued commitment to Washington students and career connected. Congressman Derek Kilmer greeted Summit attendees via video, "Not being there in person doesn't stop me from being super-excited about the work being done by West Sound STEM Network." He shared that the West Sound STEM Network members "play a pivotal role in our region's economic development work and are the forefront of making sure that our youth are prepared to compete for jobs that are increasingly integrated with new forms of technology." Congressman Kilmer also noted that the career pathways work being done by West Sound STEM Network, including the controls technology apprenticeship, is "exactly the kind of support our education institutions need to provide the necessary training to help out the youth of today and future generations so that they can compete for high-demand, high-wage jobs."
Washington Senator Emily Randall provided remarks about the importance of career-connected learning opportunities for youth in our region and reinforced the importance of the cross-sector partnerships in West Sound STEM Network.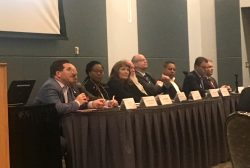 "Continuing the Momentum in our Region" was the focus of an interactive panel discussion. Participants conveyed the need to develop a highly talented future workforce and the urgency required to identify pathways for youth to high-demand jobs. Captain Sam Goodwill, Boeing, Robb Andrade, Siemens, Perry England, MacDonald-Miller Facility Solutions, Jiquanda Nelson, Kaiser Permanente, Rick Thompson, Chimacum School District, Dr. Marty Cavalluzzi, Olympic College, Lance Wrzesinski, OSPI, Shannon Thissen, OSPI and Eric LeVine, CellarTracker presented successful case studies of initiatives to prepare students for the jobs of the future.
Maud Daudon, Career Connect Washington Executive Leader, provided a video update on Career Connect Washington and highlighted the building of a regional career-connected system by West Sound STEM Network. Panelists then shared strategies that can successfully connect and support local schools, teachers, employers, colleges, industry groups, business and others in the community.
As the second regional Career Connected Learning Summit came to an end, there was a resounding agreement across all attendees that this work was essential to ensuring that Washington students can take advantage of the economic opportunity available in the state.
"It's great to see this incredible cross-section of the community convening," said Gilda Wheeler, Senior Program Officer, Washington STEM. "This is a great model program for the entire State."
"This effort has built an incredible foundation to help develop the critical skills that lead to high demand, high wage jobs in our region," said Dr. Kareen Borders, Executive Director, West Sound STEM Network.
The West Sound STEM Network will reconvene Summit attendees in the fall as business, government, and communities across the region continue to build the necessary partnerships that will enable career connected learning to thrive on the Kitsap and Olympic Peninsulas.