Washington STEM lends expertise to Utah for developing Computer Science Master Plan
"This plan is the result of a thorough process, deep collaboration, and a tremendous amount of feedback between stakeholders."
Washington STEM works to identify local solutions and provide the resources needed to support wide-spread adoption of equitable policies, practices, and programs. Our experience in identifying the most promising pathways and replicating and scaling successful STEM programs at times, leads to opportunities to collaborate across state-lines. Most recently, the State of Utah wanted to tap into the expertise of the Washington STEM team to partner on a comprehensive plan to ensure equitable access to computer science education for Utah students.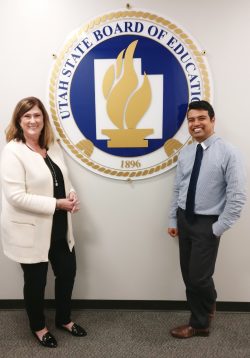 Computer science continues to be one of the most in-demand credentials in Washington state and the country. Fifty eight percent of all new STEM jobs are in computing, but only 10% of new graduates are in computer science. Likewise, in Utah, according to national advocacy organization, Code.org, while there are many open computing jobs in Utah, there are not enough qualified workers to fill many of these positions. Computing jobs are the #1 source of new wages in the US, with over 500,000 current openings across the country. Students must have the opportunity to pursue a computer science pathway if they choose, but our education systems need to be ready for those students.
Washington STEM's collaboration with a host of practitioners and educators led to the creation of the Utah Computer Science Master Plan. The CS Master Plan provides a roadmap for K-12 schools in Utah to use as they bring programming online that will offer computer science to all students regardless of age, race, gender, disability, or socioeconomic level by 2022. Dr. Bish Paul from Washington STEM and Hon. Susan Bonilla of Strategies 360 co-authored the CS Master Plan funded by Pluralsight One.
On July 25, 2019, The Talent Ready Utah Board, consisting of representatives from the Utah State Board of Education, State Legislature, Governor's office, Business and Industry, Workforce services and Technical colleges, approved the Utah Computer Science Master Plan.
"This plan is the result of a thorough process, deep collaboration, and a tremendous amount of feedback between stakeholders. Approval of this plan is a critical step to empowering Utah students with the skills they need to thrive in today's digital age," said Dr. Bish Paul, Washington STEM Policy Manager.
The implementation of a statewide computer science education plan is a bold undertaking but a necessity if the education system hopes to keep pace with the needs of a well-prepared workforce. Washington STEM is proud to have played a crucial role in helping the state of Utah lead the way to prepare children for the rapidly changing needs of the workplace. We look forward to assisting in similar efforts in the state of Washington and beyond.