Q&A with Sabine Thomas, Senior Program Officer
Get to know Washington STEM team member Sabine Thomas, ND, our new Senior Program Officer.

Washington STEM is thrilled to have Sabine Thomas, ND join our team as the new Senior Program Officer for the Central Puget Sound region. We sat down with Sabine to learn a bit more about her, why she joined Washington STEM, and how she came to care so deeply about STEM education.
Q. Why did you decide to join Washington STEM?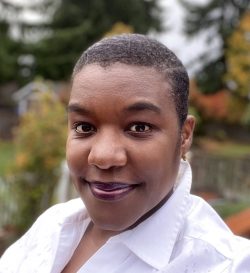 I was eager to be part of a system-based organization focused on promoting economic security and generational wealth opportunities in STEM for communities of color that have historically been disenfranchised.
My body of work, which is geographically focused on the Central Puget Sound (King and Pierce, the most populous and diverse counties), centers around engaging Black and Indigenous community led organizations and ecosystems to inform and contribute to our system-based work. This was a strong draw for me!
Q. What do equity in STEM education and career mean to you?
It means consistently interrogating one's positionality and the impact it has on building systems with equitable access to STEM, with global majority representation, steeped in inclusion and belonging. Equity in STEM education and career also means disrupting the status quo, particularly for communities of color; there is a strong emphasis on education, and career pathways but in my opinion not enough on entrepreneurship particularly in the STEM careers.
Q. Why did you choose your career? What was your education/career path?
Powerful Black women influenced my career choices. My neighbor growing up was a gorgeous, sharp, melanated woman with a PhD in Biochemistry from La Sorbonne Université. She mesmerized me! In high school, both my AP Biology and Calculus teachers were tenacious, no-nonsense Black women who cheered me on and swore by my success. They continued their paths as school leaders and principals. In college, the Executive Director of the organization where I interned was trained as a nurse and eventually became a New York City Borough President. I have remained in touch with three of these phenomenal trailblazers! I chose my career path because they have fully taken care of their positionalities to impact my life and the lives of countless other young Black women considering unconventional pathways in STEM.
My career in STEM has been impacted by my training as a Naturopathic Physician (ND), an NIH Post-doctoral fellowship, and my tenure at ADA Developers Academy. Naturopathic Medicine centers around the whole person; the mental, social, emotional, physical, and spiritual dimensions. While I was training to perform physical exams and diagnose conditions, I was also steeped in understanding a patient's multidimensional social determinants of health.
A pivotal moment in my Naturopathic medical education was when, as a teaching fellow, I designed a course I called "Dermatology in Color". Most of our study of the skin coursework was 95% focused on pictures representing white skin. My solution was to ensure that my white colleagues, along with POC colleagues, could recognize skin conditions on patients that look like me and the global majority.
At ADA Developers' Academy I was introduced to the power of programming and coding and the fact that these skills 1) can rapidly change the course of one's entire family generational wealth, 2) can impact the way medicine can be practiced. A recent LinkedIn post from @Melalogic featured a Black-owned tech company that uses image data submitted by Black users to train a diagnostic AI calibrated for Black skin. How brilliant! Though it was not my creation, this ingenious work is the perfect example of how medicine and digital applications – both powered by STEM – can be applied for good.
Q. What inspires you?
My beautiful son deeply inspires me. Becoming a mother has added another delicious layer to my identity. I am inspired by the opportunity to co-create and shape STEM careers and jobs that don't exist yet but that children such as my son will be instrumental in creating in the next 15 years!
Q. What are some of your favorite things about Washington state?
I moved here 21 years ago with the intention of remaining for 5 years at most. The quality of life and proximity to spectacular mountains and the sound have kept me here.
Q. What's one thing about you people can't find through the internet?
Schedule some time to connect with me and find out!