"Why STEM?": The Case for a Strong Science and Math Education
By 2030, less than half of the new, entry-level jobs in Washington state will pay a family-wage. Of these family-wage jobs, 96% will require a postsecondary credential and 62% will require STEM literacy. Despite the upward trend in STEM jobs, science and math education is under-resourced and de-prioritized in Washington state.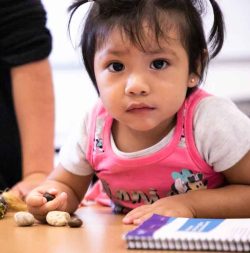 "Maria" is a toddler in Washington. She is just learning to count, but her parents, like most, are already thinking about her future: a good education leading to a rewarding career that can support a family.
But without significant investment in STEM (science, technology, engineering and math) education, only 16% of Washington high school graduates will be equipped for family-sustaining jobs in Washington's predominantly STEM-based economy.
But "Why STEM"? Why not the arts or humanities?
Luckily, this isn't an either/or proposition. Studying the arts, humanities, and other non-STEM fields helps us develop critical skills, makes us well-rounded people, and adds beauty to the world. Science, technology, engineering, and math don't exist in a vacuum—these disciplines are integrated and are constantly evolving to help people understand natural phenomena and design solutions.
We focus on STEM specifically because, due to education policies, STEM learning is often de-prioritized and under-resourced, particularly in schools with higher numbers of students of color, girls, rural students, and those experiencing poverty—our priority population students.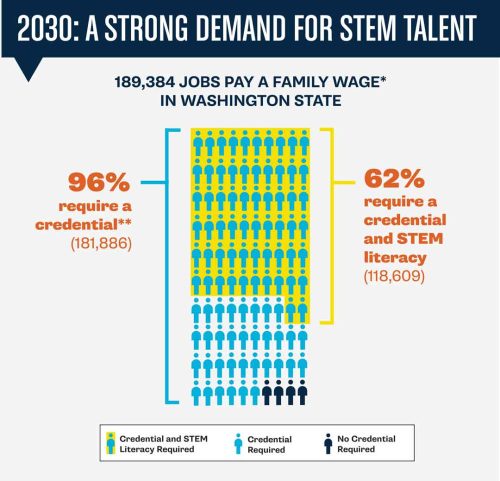 Washington STEM's focus is less on the four disciplines included in the STEM acronym, and more on an integrated and applied approach to learning that includes STEM, the arts, humanities, computer science, and career and technical education (CTE).
Additionally, when it comes to future jobs, by 2030, 96% of family-sustaining jobs in our state will require a credential after high school—that is, a two-year or four-year degree or a certificate.
Of those jobs, over two-thirds will require STEM credentials or foundational STEM literacy.
That is why we believe that students in Washington have a civil and basic education right to graduate STEM literate.
STEM Learning: Trifecta of Benefits
Without targeted investments and collective action in our early learning, K-12, and postsecondary institutions, Washington employers will continue to have to recruit out-of-state workers.
A comprehensive education that integrates STEM, language arts, humanities, and the arts prepares students to communicate their ideas, consume information critically, represent complex concepts, and contribute to the local and global community. Towards this end, investing in STEM education has a trifecta of benefits:
1. Developing Critical Thinkers: A science education—learning the basics of cell biology or plate tectonics—also helps students develop higher-order thinking, the kind needed to contemplate complex ideas and to engage with the world around them.
2. Solid Workforce Pipeline: Investing in STEM education will strengthen Washington's education-to-workforce pipeline and cultivate a highly skilled workforce equipped to meet the demands of our economy.
3. Ending Generational Poverty: Lastly, STEM careers offer a family-sustaining wage that can interrupt generational poverty. Recent research has shown that students from the most economically disadvantaged families quickly overtake their parents' income after earning a 2- or 4-year degree. We owe it to the next generation to make them ready for the transformational possibilities that STEM skills and education beyond high school can provide.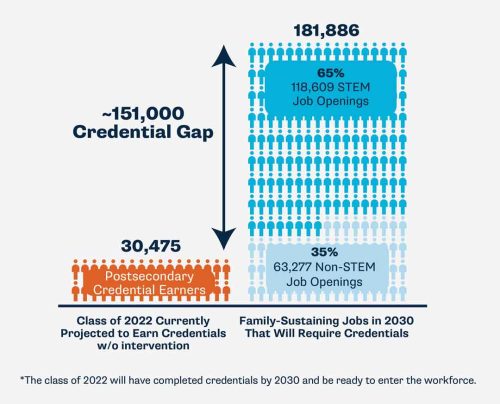 But today, in 2023, we are failing high school graduates in Washington state.
In the next decade—by 2030—there will be a significant gap between available STEM jobs and the graduates with the credentials to fill them. Without targeted investments and collective action in our early learning, K-12, and postsecondary institutions, Washington employers will continue to have to recruit workers from out-of-state. Meanwhile, the majority of high school graduates in Washington will not be prepared for anything other than the lowest-wage jobs in the state.
Collectively, we have a moral imperative to fix the system so that students' aspirations are met with the support, education, and skills they will need to thrive in family-wage jobs here in our state.
Washington STEM has a plan to turn this around by 2030.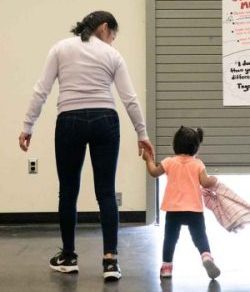 Together with our 11 network partners across the state, we plan to triple the number of students of color, young women, and students from low-income and rural families on track to earn high-demand credentials that will help them fill the 118,609 STEM jobs projected for Washington state in 2030.
But the plan to prepare students for STEM careers doesn't start in high school—it starts with story time and play.
In the next blog, follow Maria from pre-school to postsecondary to see how Washington STEM's approach to systemic change impacts her school career.


—
*"Family wage" is defined by the University of Washington Self-Sufficiency Standard, 2020, and assumes a family of four with two working adults. Source: STEM by the Numbers dashboard.
**Credentials include 1-year certificate or a 2- or 4-year degree.