WASHINGTON STEM'S STUDENT DESIGN TEAM: I'M A STUDENT AND I'VE GOT INSIGHT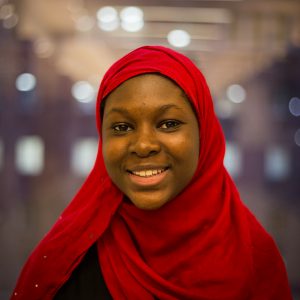 Hi, my name is Mamasa Waggeh. I'm a freshman at Franklin High School, and a member of the Student Design Team for Washington STEM's She is STEM project. I love makeup and clothing, and I have a huge interest in STEM-related subjects because I know it will help me get onto the right education path for my future career— owning my own cosmetics and clothing-lines. As a woman of color, when shopping for makeup, it is incredibly difficult to find the correct skin-tone shade and I want to be able to make that easier for us, but in order to make that happen, I need to take A LOT of science classes. Currently, I am taking a chemistry class, which is great to have as my foundation, and encourages me to do a lot research on the process of cosmetics chemistry and science.
The She is STEM student design team is a work group filled with a diverse set of teenagers.  Washington STEM created this group so that our feedback, ideas, and opinions are incorporated into their work on engaging young girls and encouraging them to pursue the STEM fields.  And STEM  is exactly what I want to pursue after high school!
In the last Women in STEM Student Design Team meeting, we focused on what advice we would give a STEM professional who would possibly visit our classes or take us on worksite tours. We also focused on what we would want to know from them, how we would want them to interact with us, and what would make their presentation interesting to us as students.
The COO of Dolly, Kristin Toth Smith, hosted us for the evening.  She told us her story about the challenges and rewards that come with pursuing a STEM degree. We then brainstormed ideas with a partner on what we would want to learn from women STEM professionals, like: How did you get started in your career? Did you have any challenges? What were your challenges? How did you overcome them? Walk me through what a day at your job?
The last activity we did in this meeting was focus and reflect on what kind of life we picture for ourselves in the future and what kind of people we want to be. What I liked most about this was that we had the chance to get to know each other and our aspirations for the future. We also have a lot of fun when we strategize together what kind of advice we want to give to STEM professionals when connecting to students like us. I'll definitely keep coming back to the Student Design Team meetings because of what I can contribute and what I can continue to learn.