BRIDGET SEVIGNY, SENIOR ENGINEERING MANAGER AND STEM SUPERSTAR
On May 4, 2017, Washington STEM and Tableau hosted an evening focused on supporting computer science education. Bridget Sevigny, a Senior Engineering Manager at Tableau, delivered these remarks about her support of STEM education.
My path through STEM starts before I was born.  My older sister—Elizabeth, Co-Director of the Science and Math Institute in Tacoma—was supposed to be a boy named "Patrick."  I, in turn, was supposed to be a "Patrick."  Our father, a handy-man to the core, had dreamed of what he would teach "Patrick."
But then, he saw the light and the brightness of his two curious daughters and shared with us the finer points of chopping wood, plumbing, framing walls (and insulating, wiring and dry-walling).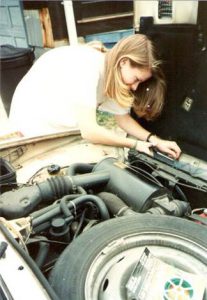 We made my first car safe with the installation of new drum brakes (and the finer points of bleeding the brake lines and how to adjust the parking brake cable).
There were plenty of projects.
I remember the tension of being a sixteen year old girl, with a head of long hair curled just so, and his flabbergasted expression when I would dare work on some project without tying my hair back.
He was clearly glad to have me working alongside him, but I was something different from his dream of "Patrick" helping him out.
Back then, I had mentioned becoming a:  teacher, nurse, lawyer . . .  engineer.
At the mere whisper of "engineer," my dad jumped into action. Dad had me meet a colleague of his—a woman in engineering.  Somehow my father, with some traditional ideas, had decoded that I would benefit from meeting her—a chance to see a glimpse of me in her.   Something clicked.  I wouldn't be here today if it hadn't.
My father, having observed me tinkering, experimenting, and building for years, had gathered thousands of data points about me.  And he used that data to help me draw a conclusion:  that my particular mix of talents and interests could serve me in many careers.  And in a way, Tableau does the same thing—on a much bigger scale.
Tableau's mission is to help people see and understand their data—often complex data.  We do this so that people can solve some of the world's thorniest problems:
• Helping the homeless leave life on the streets
• Ensuring everyone has a good meal through local foodbanks
• Reversing the spread of Ebola
• Eliminating terrible diseases—like Malaria—all  over the world
With each of these, people are using data to ask and answer questions.
To build the products we build, we need people who understand data, and how to use it.  And, we're a software company.  Computer Science is at the core of what we do.  Without more and better computer science education, Tableau and other tech companies in Washington will continue to struggle to fill jobs, and we will continue to struggle with diversifying our workforce.
Tableau is partnering with Washington STEM in many ways, and this allows us to reinvest in the tech community that has supported our growth as a company.
• In 2016, our employees contributed over $4000 to the Washington STEM Computer Science Education catalyst fund. These donations unlocked even more money in public funding to support computer science education in public schools.
• Our employees volunteer with organizations—like Code.org and Techbridge—that support STEM education, and also in high school computer science classes.
• And we are delighted to host events like this one, bringing in the tech community to increase awareness of STEM education programs.
I go back to Tableau's mission—helping people to see and understand data.  What we are doing with Washington STEM fits our mission perfectly.
I mentioned Techbridge a moment ago, let me tell you a bit more.
Techbridge is a local non-profit that Washington STEM has supported in delivering after school empowerment for girls through a STEM curriculum.  I support Techbridge as both a volunteer and a member of their local Advisory Board.
As I learned more about this organization, so much resonated with me. They have decoded many of the elements that attract girls, elementary through high school, to STEM:
• interesting, hands-on projects
• engagement with their families about what they are learning, week by week
• role models who care about the girls' love of science and math and that all the things they love make them uniquely who they are (their hair curled just so,  Rihanna's latest song, and any number of things that aren't STEM related)
Reminds me of the support I had growing up.
Washington STEM supports organizations like Techbridge bringing similar programs to more school districts, urban and rural, across the State.
And more access to STEM means we're more likely to achieve equitable outcomes for all students.