AN INSIDER'S SNEAK PEEK: THE FINALE
Over the past six months, Washington STEM has travelled across Washington state to discover and learn from promising career connected learning programs.  We've travelled from Ocean Shores to Spokane and everywhere in between to learn as much as we possibly can from those that exemplify and excel at career connected learning. Here we are at the end of that journey with our last, but certainly not least, band of Learning Labs.
Core Plus is a statewide two-year standardized high school curriculum, developed by Boeing, that prepares high school graduates for an entry-level career in manufacturing. The Core Plus framework is easily adaptable for CTE programs, traditional high schools, and skill centers to implement into their curriculum. The first year of the framework educates students on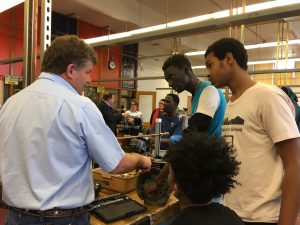 common manufacturing skills across various industries, while the second year focuses on specific industries that may be prominent within their communities. Gilda Wheeler, Washington STEM program director, met and talked to students who are learning about aerospace manufacturing through Core Plus. "The students we talked with were deconstructing and repairing motors and they had spoken about their future aspirations to work within the aerospace industry. Core Plus offers an excellent window into that field and teaches 21st century workplace skills, they are  creating a pathway for those aspirations."
The Pacific Education Institute's FieldSTEM program is a pilot program designed to engage and educate teachers from thirty rural and remote school districts within Washington. These teachers will ultimately create plans that allow them to integrate work based learning into their curriculum. The FieldSTEM program provides two half days of teacher professional learning. The program focuses on career awareness within their communities, identifying company and agency sites for partnership, prepping for site visits, and job shadowing for their students. Pacific Education Institute's primary objective in this pilot program is to develop a guide that teachers can use to identify key components during site visits that they can incorporate into their classrooms, with a focus on applied science and problem-solving. Tana Peterman, Washington STEM program officer, visited the FieldSTEM program in Olympia, "It was valuable to hear first-hand from the CTE and science teachers together about how they are collaborating in this program to bring career connected learning experiences into the classroom."
Seattle/Tacoma-based Aerospace Joint Apprenticeship Committee (AJAC) is a youth apprenticeship, 2,000-hour program that is designed to give high school juniors and seniors a way to develop career-ready skills in aerospace and advanced manufacturing. The program blends paid-on-the-job training practices with college-level classroom instruction, which paves a path for students to earn their high school diploma, a journey-level card, and short-term college certificate(s).  Danny Gross, communications manager for Washington STEM, traveled to Lincoln High School in Tacoma to talk with students involved in AJAC's youth apprenticeship program. "One of the students I spoke with had just been hired the day before by a local machining and manufacturing shop. He was the first in his class to be offered a position as a youth apprentice. He understood the responsibilities and learning experiences he was taking on and couldn't be more excited about it. The AJAC youth apprenticeship program is connecting classroom learning to real-world opportunity in a unique and meaningful way that engages youth, educators, and business."
Catherine Verrenti, a Washington STEM consultant who led the assessment of these Learning Labs, reflected on her experiences over the past six months. "It was really great to get out to all parts of the state and see so many different programs. We experienced everything from large scale, community wide initiatives to new programs or pilot ideas to test strategies on how to fill gaps or provide valuable experiences. Nearly every place leveraged employer relationships that had been cultivated over time — we saw business people mentoring students and the power of how industry-defined standards and challenges can add relevancy to work for young adults."
Tana explained the primary purpose of the Learning Labs and what the expectations are for them in the future as, "The goal of studying the 21 Learning Labs was to better understand existing opportunities in career connected learning programs across the state. The case studies were developed to highlight and promote promising practices in career connected learning and will be compiled into a final report that will be shared at the Governor's Summit on Career Connected Learning on May 31."
For more information on the Governor's Summit on Career Connected Learning, please visit the Facebook page: https://www.facebook.com/GovCareerSummit/.