Mia Stitt – 2021 West Sound Region Rising Star
2021 Rising Star and one of Washington's next generation of STEM leaders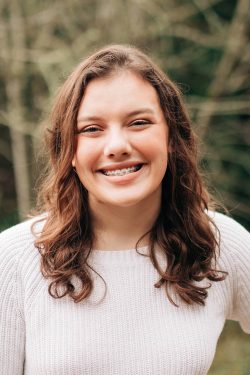 Mia Stitt
11th Grade
Peninsula High School
Gig Harbor, WA
Mia was selected as the West Sound Region 2021 Rising Star for her exemplary academic performance and her engagement with STEM in and outside of the classroom. She's an active volunteer in multiple STEM outreach programs and enjoys spreading her enthusiasm for science to her community. She has a special love for space and hopes to pursue a career that blends astronomy, engineering, and mathematics.
Mia's enthusiasm for science is infectious and she is viewed as a natural leader by her peers and school faculty.
Erin O'Neill, Executive Director College, Career, and Life Readiness, Peninsula School District/District Office
Nominated By:

Erin O'Neill
Executive Director College, Career, and Life Readiness
Peninsula School District
"Mia has sought out opportunities to engage with the professional scientific community. She has taken part in science symposiums in which she was able to speak directly to astronauts on the international space station and ask questions directly to a NASA black hole astrophysicist. Mia continually engages with the scientific astronomical community via a network of remote telescopes in different parts of the world. Her commitment to pursuing astronomy is inspiring.
Mia has and continues to serve her community by promoting STEM at both the middle and elementary school level. Mia is an integral part of Vaughn Elementary's STEM outreach program both recruiting other high school and middle school volunteers. She has also served as an ambassador to the CAPE program geared toward increasing interest in STEM for middle school girls. Mia's enthusiasm for science is infectious and she is viewed as a natural leader by her peers and school faculty."