Washington STEM Rising Star Awards Presented by Kaiser Permanente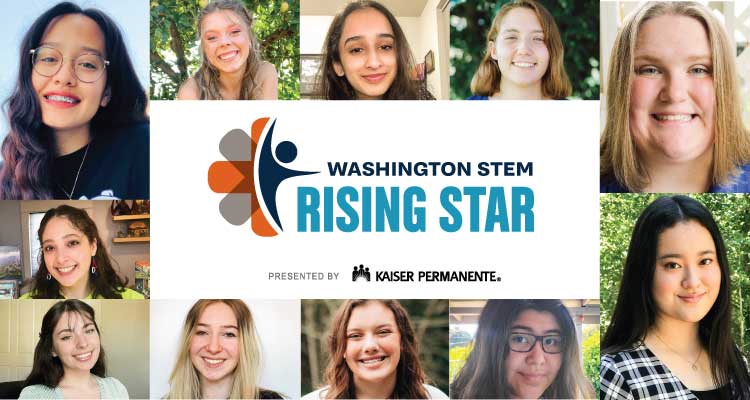 Meet our 2021 Award Winners
Our Congratulations
We received some phenomenal nominations in this inaugural year of the Washington STEM Rising Star Awards. While we can't host an in-person awards ceremony, we do want to share our excitement and offer some words of encouragement to all of the girls we're celebrating. Please take a moment to watch the videos below to hear more from Senator Patty Murray and Dr. Jenee Myers Twitchell, Chief Impact Officer at Washington STEM.
About the Awards
The Washington STEM Rising Star Awards presented by Kaiser Permanente encourage girls to embrace STEM education and to explore the use of STEM in ways that will support their education, career, and personal development and the development and needs of others. This state-wide effort acknowledges one student, nominated by a wide array of education, community, and business leaders, from each of the 11 Washington STEM Network partners/regions.
Every girl should feel empowered to take advantage of the transformational opportunities STEM has to offer. The Rising Star Awards highlight girls who will become the next generation of STEM leaders. Their accomplishments are inspirational for the people who nominated them, and we hope they will inspire all girls to reach for the stars and embrace STEM!
Celebrating students who exemplify excellence in:
STEM – in and outside of the classroom
Development and creation of novel projects involving STEM inside or outside of the classroom
Using science, technology, engineering, and math as a means of service to communities and families
Dedication to learning and exploring topics in STEM
Academic performance in STEM based subjects
Using STEM in creative or artistic ways

Washington STEM would like to thank Kaiser Permanente for their support for this award program. We would also like to extend our gratitude to our STEM Network partners for their help in the development of this new award program and their help in the selection of amazing students from across our state! And finally, we are also incredibly grateful to all of the education, community, and business leaders who nominated girls from across our state!