Mari Rossi, Winemaker and Notable Woman in STEM
As a college freshman, Mari Rossi took a winemaking course and fell in love with enology. Since then, her trade and passion has taken her from Walla Walla to New Zealand to Woodinville, where she now works as an Assistant Winemaker at DeLille Cellars.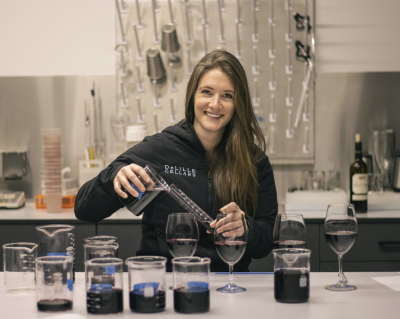 Can you explain to us what you do?
I make wine! I am part of a team that does every aspect of the winemaking process once the grapes are harvested and delivered to the winery. This includes testing for flavor, sugar, and acid levels in the early fall to help decide when we want to pick the grapes. Our team is also in charge of tracking the fermentation process of juice into wine, maintaining healthy wine throughout the aging process in barrel, blending the wines, bottling the wines, and performing all chemical analysis on the juice/wine throughout its time in the winery.
In addition, I manage a team of cellar leads as well as interns during the harvest season (August-November), and I support the sales team when they need a winemaker present at a dinner or when meeting with a client.
What was your education and/or career path? How did you get where you are now?
What is great about winemaking is that there is no "right" way to get into the industry. Everyone has a different story.
After graduating from high school in Sammamish, WA, I attended Cornell University in the Agriculture and Life Sciences College. After my first semester, I decided to take a class on winemaking called Wines to Vines. I fell in love with the way that wine blends the world of math and science with creativity and craftsmanship. With my newfound passion, I decided to switch my major during my sophomore year and graduated with a Bachelor of Science in Enology and Viticulture in 2011. After graduation, I worked at several different wineries across the globe. Each location offered a unique experience in lab work, wine making and even the size of the winery. After working in Walla Walla, Sonoma, Napa, New Zealand, and Woodinville, I started a full-time position as the Enologist at DeLille Cellars in 2014. I have since been promoted to Assistant Winemaker and am part of an incredible winemaking team (made up of mostly women)!
What/who were some of your most important influences that guided you to STEM?
I was very lucky to have a strong support system that encouraged my journey in STEM. My parents were always incredibly supportive of my passion for math and science growing up. They encouraged me to harness my passion and see the many options for applying STEM in my career. I also had several teachers who recognized my passion for STEM and encouraged me to grow and explore the STEM field that lead to my role today.
Here at Washington STEM we are starting to talk about "early math identity." A positive early math identity – knowing you can do math and that you belong in mathematics – helps students succeed in STEM. What were some of your earlier experiences in math, and how do you think that impacted your career choice?
My early experiences with math were very positive, as I felt like I had found a subject that came naturally to me. I have always loved solving problems that had clear answers, and I was lucky that I had people in my corner reminding me that women can be successful in math. I always knew that I wanted to find a career path that included my love for math, but it was hard to know what other options were out there for me. I was lucky to find my footing in the wine industry, as it incorporates both math and science, along with the more unpredictable aspects of agriculture and the artistic crafting of a product. That is why Washington STEM is so important, especially for young women, to help show the various career options that are available.
What is your favorite part of your job?
The wine industry is very small, yet it spans the entire world, so there are endless opportunities available.
I love that I get to use math and science every day: tracking fermentations, calculating conversions, analyzing the chemical makeup of wine, while also getting to be creative, active, and constantly learning. I also greatly enjoy the people that I work with, which is important when spending so much time together! The wine industry is very small, yet it spans the entire world, so there are endless opportunities available.
What do you consider your biggest achievement in STEM?
One of my biggest achievements in STEM is continuing to bring other folks along with me as I grow in the industry, as well as championing the industry in underrepresented spaces. In order for the wine industry to evolve, we need more diversity working up the ranks and into positions of power. That is a large focus for me when looking at my position of leadership within a STEM focused field, and I hope to continue to help move the needle in the right direction.
Are there any stereotypes about women in STEM you'd like to personally dispel?
Of course! Women can do absolutely ANYTHING, and they can do it well… including STEM specific topics. We have women breaking stereotypes all the time in the cellar (we have four female cellar leads!), driving forklifts, operating machinery, working a physically demanding job, and everything in between. So, I know firsthand that stereotypes are meant to be broken.
What unique qualities do you think you bring to STEM?
My perspective on how STEM can be incorporated into a career that isn't as widely known as an option, especially for women and everyone else who is underrepresented in the industry. So much of what we know as possibilities, dreams, and goals are based on what we are exposed to and where we see ourselves represented. Because there were some incredible women trailblazers before me, I want to continue showing women and young girls that there is a space for them in the wine industry (and other industries like it), where they can apply their love for STEM within a lifelong career.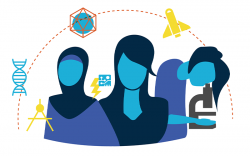 How do you see science, technology, engineering, and/or math working together in your current job?
Making wine incorporates so many different disciplines! The simple act of making wine is the scientific process of fermenting grape juice into wine; however, we must take into account the plant science in the vineyards and continuously adapt to the ever-changing agricultural challenges that are presented throughout the year. We use technology to share, track, and consume information about our wines and the industry. The engineering of our cellar space, the machines we operate, and the inner workings of a bottling line are vital for us to be successful in creating a world class wine. And of course, math, which we use every day when calculating measurements, converting units, utilizing our space correctly, analyzing data, and so much more.
What would you like to say to young women thinking about beginning a career in STEM?
Don't hold back. If you feel connected to any aspect of STEM, you can find a path that works for you. It can feel discouraging if you already know you don't want to proceed with a career in the more well-known STEM industries (healthcare, engineering, finance, etc.), but there are so many other options out there! Networking is so helpful when looking for a path forward, and I always suggest seeking out a mentor who can help point you in the right direction. I have been in the industry for over ten years, and I still rely heavily on mentoring from other women who can help guide me through my career.
Can you share a fun fact about yourself?
After working a harvest in New Zealand, I was able to visit Thailand with a friend. When spending a day with elephants we were able to meet a baby elephant named Tara. I tripped and fell, and she thought I was playing so she sat on me! My life flashed before my eyes, and the photo is hilarious.