Laasya Anjana Yaramaka – 2023 Capital Region Rising Star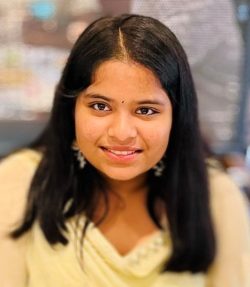 Laasya Anjana Yaramaka
12th grade
Olympia High School
Olympia, WA

Laasya Anjana Yaramaka is a robotics whiz who uses her skills to help others — whether it's adapting toys for children with disabilities or mentoring robotics students overseas.



Get to know Laasya
When you were five years old, what did you want to be when you grew up? What do you want to do now?
When I was five years old, I wanted to become a celebrity through acting, and even though that career would be so much fun, now I want to focus on becoming an aerospace engineer because that's what I'm passionate about.
If you could teach a class on anything STEM-related, what would it be and why?
I'd probably teach either robotics or biology, because those are the subjects I'm passionate about and they also changed how I view life.
If you had unlimited money, time, and resources, what STEM-related project would you take on?
I'd find a way to reverse the changes of global warming, because it pains me so much to see how our environment is getting very badly affected by this – and our daily lives as well. By choosing this issue, I hope to improve the lives of future generations.
The path to the robotics world championships
Laasya talks going to an international robotics competition, and all the challenges her team faced along the way.
From Laasya's Nomination Statement
"Laasya is a member of two levels of robotics at Olympia High School. As a member of OlyRobots, a FIRST Technical Challenge club, she has been critical to the robot design and building. She is also the first to volunteer for outreach experiences, whether it's to adapt toys for kids with disabilities or run a robotics demo at the local children's museum. Her team, OlyCow Robotics, won the Connect award this year for their outreach efforts and was able to attend the state championship.
"Laasya is a joyful beacon for sharing STEM with those around her."
Her joyous energy is infectious, and she does a great job working with young people at the various event's we participated in throughout the year. As a member of FIRST Robotics Challenge team, Olympia Robotics Federation, she has joined in the effort to mentor robotics students in Egypt. This effort led the team to win the Engineering Inspiration award at the local and state level to earn a spot at the world championship.
In my classroom, she is a keen problem solver. She can quickly assess a hardware or software problem and then help her team develop a solution. She is also currently taking Honors Chemistry, which is a very rigorous class in our school."
—Andrew Woodbridge, Robotics Teacher and Mentor, Olympia High School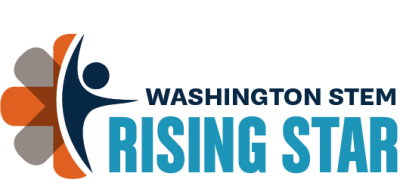 The Washington STEM Rising Star Awards encourage girls to embrace STEM education and to explore the use of STEM in ways that will support their education, career, and personal development and the development and needs of others.
Meet all of the 2023 Washington STEM Rising Stars!