Kyia Miles – 2023 Mid-Columbia Region Rising Star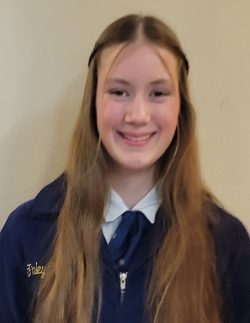 Kyia Miles
11th grade
River View High School
Kennewick, WA

Kyia Miles brings STEM learning out of the classroom and onto the farm! Her strong work ethic and deep interest in agriculture make her a true standout — whether she's taking a plant science class, making metal art, or raising sheep.




Get to know Kyia
What was a fun or inspiring early learning experience you had?
Growing up on a farm, I've always been amazed that just pressing buttons can cause a heavy piece of equipment to lift up something that weighs over a ton and move it over to a stack over here or a pile over there, with just a couple switches of direction.
If you could teach a class on anything STEM-related, what would it be?
During my high school career, I was able to take a plant science class where we learned about plants and then grew them in the greenhouse. It was enlightening and a lot of fun, and I'd love to pass that on to the next generation.
Who is your STEM role model?
My STEM role models are my parents because one has a computer engineering degree and one runs the cattle operation. These two may seem like complete opposites, but through STEM they actually complement each other. They have shown me that no matter what field I go into, I can always use science, technology, engineering, and mathematics.
From the classroom to the farm
Kyia discusses how an agricultural science class changed her perspective on STEM.
From Kyia's Nomination Statement
"First and foremost, Kyia's kindness and compassion towards others are evident in her everyday interactions. She goes out of her way to lend a helping hand, offer words of encouragement, and show genuine care and empathy towards those around her. Her unwavering commitment to supporting others has earned her the respect and admiration of her peers and mentors alike.
"Kyia's ability to succeed is a reflection of her unwavering dedication, genuine likability, and relentless pursuit of her goals."
In addition to her kind-hearted nature, Kyia is highly coachable. She is always eager to learn, open to feedback, and willing to embrace new challenges. […] Kyia's diligence and hard work are also commendable. She consistently puts in the effort and dedication required to achieve her goals. She tackles tasks with determination, persistence, and a tireless work ethic. Her ability to stay focused, stay motivated, and consistently produce high-quality results is truly impressive.
Her background as a child of parents who own dryland and irrigated farmland as well her involvement in helping with the cattle operation has fostered a deep appreciation for agriculture and the STEM fields. From plant science class to 3-D metal art class, Kyia eagerly engages in hands-on learning opportunities that combine her interests in agriculture and STEM. Notably, Kyia's involvement in raising sheep for her project showcases her dedication and responsibility. Taking on the responsibility of caring for and managing animals requires her to apply scientific principles in nutrition, health, and genetics." —Jennifer Yochum, CTE Agricultural Education Teacher and FFA Advisor, River View High School and Finley FFA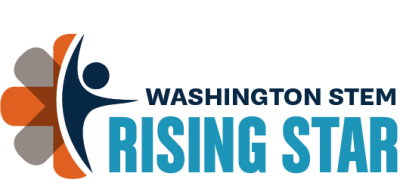 The Washington STEM Rising Star Awards encourage girls to embrace STEM education and to explore the use of STEM in ways that will support their education, career, and personal development and the development and needs of others.
Meet all of the 2023 Washington STEM Rising Stars!