A SUMMARIZATION OF THE BEST INTERNSHIP I COULD'VE EVER ASKED FOR
"No man ever steps in the same river twice, for it's not the same river and he's not the same man." – Heraclitus of Ephesus
This quote holds a lot of meaning for me and bears weight as my nine-month experience as Washington STEM's communications intern comes to an end.
I grew up wanting to be at first a dentist, then a chemist, then, in high school, a forensic anthropologist. I'm none of those things now. Why, you ask? I didn't have the support system in my educational journey to nurture my curiosity for these STEM subjects. Instead, I developed a fear that because I'm a girl, I wasn't supposed to be in STEM. I was wrong, and I still kick myself for not staying in STEM and pursuing those passions—not that communications isn't great, because it is, it's just not what I envisioned for myself when I was a child.
I had never worked in a nonprofit before, but once I saw the posting for an internship at Washington STEM, I knew I had to jump at the chance. I started my career in social media for an e-commerce company, and after a few years there, I wanted to do more than help resolve problems for customers and their orders—I wanted to help my community. This internship was a way for me to use my expertise in social media and digital communications as a tool to create meaningful messaging that could inspire young girls and underrepresented students in a positive and beneficial way.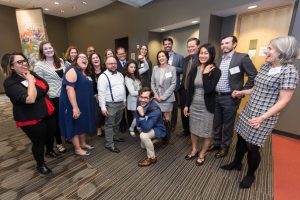 Working at Washington STEM, alongside an incredible team of professionals who are passionate about making STEM accessible for every single student, has been the opportunity of a lifetime. I utilized and strengthened my established skill sets and was given the chance to travel all around Washington to see STEM in action.
I was able to meet educators that create fun and engaging STEM curriculum that sparks and nurtures their students' interests within STEM, all while connecting those students to future career possibilities. I was in awe witnessing kindergartners create robots while also explaining to me how they built and programmed them. I met with a team of high school students who work alongside and coach individuals with cognitive disabilities to help prepare them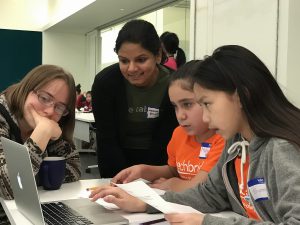 for robotics tournaments. I watched classrooms of fifth and eighth graders interact with STEM professionals to learn about environmental engineering and healthcare technology. I also met with middle school students who use computer science and graphics software to help them layout designs for an anti-bullying campaign.
Between the annual Washington STEM Summit, the Governor's Summit on Career Connected Learning, and my travels around the state, being able to engage in meaningful dialogue with educators, students, and leaders from around the state were all highlights of my time at Washington STEM. Participating in these experiences reinforced what I've seen firsthand— the critical importance of Washington STEM's mission and vision for the state: "to advance excellence, innovation, and equity in science, technology, engineering, and math (STEM) education for all Washington students."
This entire experience has been a blessing. Although I am sad that my internship has come to an end, I can't help but feel so incredibly grateful that I was able to contribute to such admirable work; it strengthened my resolve and aspirations to give back to my community in a positive and beneficial way as I pursue my future goals.