AN INSIDER'S SNEAK PEEK INTO LEARNING LABS PT.III
Through rain, sleet, and snow we have been determined to visit and assess the Learning Labs that Governor Jay Inslee, Washington STEM,  and the Workforce Training Board identified last September. The Learning Labs program will ultimately create more work experience opportunities for young people throughout Washington. In our third round of Learning Lab site visits, we saw students take advantage of new internship opportunities, hands-on career connected learning with real-world professionals, and STEM career exploration.
The Wetlands Monitoring Internship, hosted by Evergreen State College in partnership with the Washington State Department of Transportation, is a paid summer internship for undergraduate and graduate students that integrates hands-on learning and real life experiences for students who are interested in a career involving the environment. Students travel across the state to gather and analyze environmental data from wetland mitigation sites. Tana Peterman, a Washington STEM program officer, had the chance to talk about the program with last year's interns. "They described how much of a beneficial impact it had on their academics and job prospects. The group spoke of how valuable this experience was and how it had prepared them with technical knowledge and skills required for future work in wetland monitoring."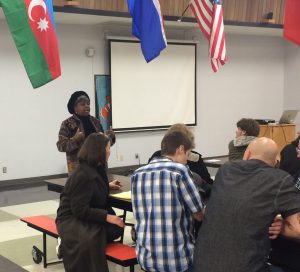 In Grays Harbor County, the Learning Lab program Grays Harbor Youth Works focuses on providing internship opportunities for students in their county. They match students from 10 school districts with 40 businesses in the county. The internships began with the input of students through surveys. Grays Harbor Youth Works operates as a college-level program, giving students the chance to gain work experience of up to 180 hours, earn a certificate of completion, and a receive $200 scholarship. Tana was fortunate enough to attend the Youth Works orientation day. She saw students and employers meet for the first time as they participated in guided conversations by program leaders to help them get to know each other and set expectations for upcoming internships.
The Southwest Washington STEM Network created the Instructional Worksite Learning (IWL) program for 11th and 12th grade high school students within the Camas, Evergreen, and Vancouver school districts. IWL is geared towards students who may be interested in one of the region's biggest job opportunities— advanced manufacturing. They implement the program via after school internships or through CTE (Career and Technical Education) courses offered in the schools. Tana Peterman said "[The students] educated us on statistical process control and the principles of lean manufacturing. You can really see that these kinds of career connected learning opportunities help bridge knowledge and career for these students."
Business After School is a program in Spokane that provides weeklong workshops focused on educating students on the various STEM career opportunities within the Spokane area. These workshops include onsite visits, hands-on work experiences, and raising awarness about the multiple pathways to these careers. Amanda Fankhauser, also a Washington STEM program officer, had the opportunity to join students on an onsite work visit to Deaconess Hospital. Amanda said, "Physically being in the operating room and getting first-hand experience with a surgical robot will leave lasting impressions for those students—and for me—that will far outweigh the limitations of a trade show booth or classroom presentation. It was great to see that some kids really stepped up to ask good questions about the different roles that people play in the hospital and the classes that are needed to get there."
Next Generation Zone brings opportunity youth, within the Spokane area, career path opportunities by tying in education, career skills training, and community/employment services as support for the youth and to inspire them in their career goals. Amanda Fankhauser said the program has "created a safe and supportive space for young people to pursue academic and career goals while feeling valued, regardless of where they are in their process. They truly embrace the term 'opportunity youth' and through their thoughtful supports and interactions, young people are building marketable skills that their local businesses want."
In Pasco, the STEM Like Me! program has a speed dating type of system, where instead of single people loking for love, it's STEM professionals volunteering to educate middle school students—all within 12 minutes. Students learn the ins and outs of the varying and diverse STEM careers in their community in a rapid but thorough rotation.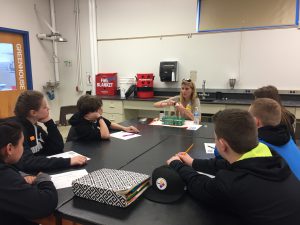 The STEM professionals are incredibly interactive with students, providing hands-on activities that range from monitoring your pulse with the instruction of a health care professional to creating Alka-Seltzer rockets with an aerospace engineer. In 'speed dating'-like session we witnessed, all the students who participated were incredibly engaged and asked each professional a ton of questions about their careers and what they did to get there.
Youth Works: South Central Washington in Yakima Valley provides a pre-apprenticeship program, in partnership with YVTech and Opportunities Industrialization Center (OIC), for the opportunity youth of Yakima Valley. Youth have the chance to work towards their GED and gain financial literacy, all while receiving additional transportation support for internships and apprenticeships. The youth who participate in this program are given the chance to establish mentorships that will last long after they finish their time in the program. For example, a professional who works in the Neighborhood Development department for the City of Yakima shared that he can relate to the opportunity youth he's paired with because he came from a similar background. Mentorship empathy helps establishes a trust that is important in nurturing the youth's career goals.