Zeno Summer Institute: Creating Opportunity for Families of Color
The themes of healing, community support, and cultural inclusion echoed throughout the third annual Zeno Summer Institute, hosted by Zeno, where educators, caregivers, and advocates gathered for two days to learn how to better support families of color in providing foundational math experiences for early learners.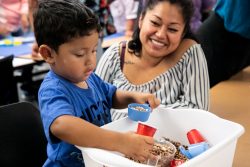 Founded in 2003 by a group of parents and teachers who saw first-hand the effects of a positive math culture, Zeno focuses on eliminating the early opportunity gaps in math by increasing the number of tools and resources available to communities of color.
The Summer Institute started as a way to efficiently welcome new partners to the early math partnership. Zeno said it was clear that their partners in the early learning space deeply valued the ability to learn in community with each other and to participate in a learning event that centered families and communities of color. Attendees learn just as much from each other as they do from Zeno staff and guest presenters.
During the Cultural Games breakout session, Education Engagement Specialist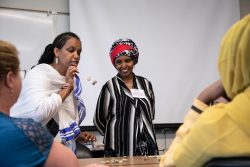 Saadia Hamid introduced a game common in East Africa where the player throws a rock in the air, catches it and counts the numbers as they go. "We empower families by using the knowledge they already have," said Hamid. By introducing cultural games, families feel comfortable teaching their children these skills because it is something they already know.
Zeno refers to this as "cultural relevancy." Families that come from different backgrounds often already have the skills to teach their children math, however, the language and cultural barriers can discourage them. Zeno empowers families by showing them they have the expertise. During one of the breakout sessions, Zeno staff encouraged providers and educators to explain to their families they don't need extra resources to teach their kids math. By using position words such as "under", "besides," "above," in everyday language, children can build their math vocabulary.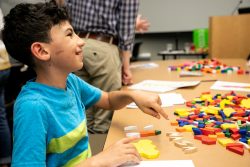 Zeno's priorities are to explore, play, talk, build and connect with early learners to make math more accessible, engaging and enjoyable. They understand the systematic and institutionalized inequities that prevent low-income students of color from achieving success, and in turn combat that by increasing access to math at an early age.
Washington STEM has partnered with Zeno because of their strong commitment to equitable early math education. Washington STEM's Early STEM work supports organizations that focus on care-giving adults and educators in a young child's life [birth to 8 years], to build the foundational critical thinking and executive function skills children need to succeed in both our STEM economy and in life.
We believe that STEM is inherently an equity issue: some students in our state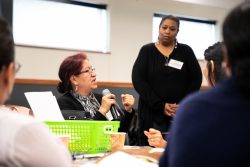 face far greater barriers to accessing STEM careers. Students-of-color, students living in rural areas, students from low income backgrounds, and girls face additional barriers and make it harder to achieve their full potential in STEM resulting in disparate academic and occupational outcomes. Our goals of equity in STEM education for all Washington students directly aligns with the mission of Zeno.
"Our partnership with Washington STEM has allowed us to launch the Summer Institute," said Zeno's Programs & Operations Director, Malie Hadley. Washington STEM provided support in 2016 that helped move the Family MathWays program from the pilot to a full-fledged program.
"Zeno's connection with Washington STEM has opened doors to possible partnerships around the state and Zeno now has a wait-list of partners we are hoping to support in the future," said Hadley.
The two-day institute wrapped up with a "reflection café" that gave attendee's a chance to express their thoughts on the experience.
"You gave us the power to use this with families and really build relationships with parents," said one attendee. Another attendee said they "loved the flow and organization" of the event and that it was a "nice balance of listening, thinking, and doing."
Washington STEM's overarching goal is that by 2030, we will triple the number of students of color, students living in rural areas, students from low income backgrounds, and young women who are on track to earn high-demand credentials and enter family-sustaining careers in the state. We are proud to partner with an organization that is continuing to drive change in STEM learning and believe Zeno is taking the right steps to eliminate racial inequalities in early math education.