Q&A with Angela Jones, CEO
Washington STEM's new CEO, Angela Jones, shares what's on her mind as she steps into her new role, as well as few things that drive her to create opportunity and impact for Washington students.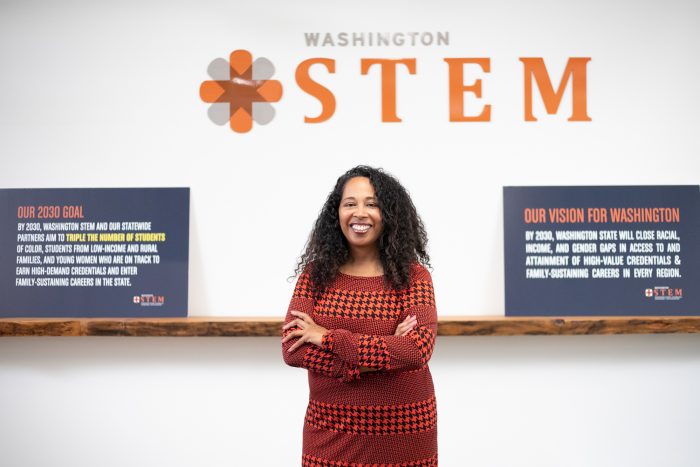 The waning days of summer are here, and Washington students are likely counting the days until the new school year gets underway. We're not quite ready to let go of the sunshine just yet, so we took some time to sit down outside with Washington STEM's new CEO, Angela Jones, to ask a few burning questions. We thought you might have some of those same wonderings, so we wanted to share the conversation.
Q: What motivates you?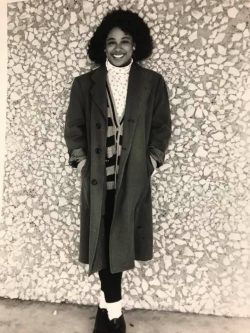 The work can sometimes seem daunting, but I think about how far our state has come as it relates to equity. As a woman of color, I can share space to problem solve in 2019 with people who don't look like me. This was not always the case. While there are still moments of discomfort and frustration, I pay homage to my people and allies before me that pushed the envelope. So, I'm motivated to push the envelope on behalf of all the children in Washington state, including my own. Right now, we are in the driver's seat and they deserve our best.
Q: Why did you decide to take this job?
When I read the job description, I loved that this job and organization put everything that's important to me into one role.  I have been in educational roles for most of my professional career because I understand how access to education has shaped the future for generations of families. I appreciate how we're working to connect community, education, and employers and understand what each constituency needs in order to best sustain our communities and economy.
Q: What are your top near-term priorities for Washington STEM?
I'm relational and am focusing on getting out across the state to meet people in the communities we serve and the amazing people that lead the STEM networks. I'm also passionate about our work and want to help people understand the realities of our STEM economy as illustrated by region-specific data. How we move now as a state dictates how our students' stories will read in the next decade.
Q: What do equity in STEM education and career mean to you?
I've long been passionate about equity and the ability to move the needle for a variety of students from all walks of life. This means students of color, girls, students from low income backgrounds, and students living in rural areas understand that STEM opportunities are indeed for them. This means those students get access to the education and technology needed to learn and develop at the same pace as other students in a well-resourced environment. This means we have the chance to help students access family sustaining wages so that our communities and state don't just survive, I want all of us to have the chance to thrive.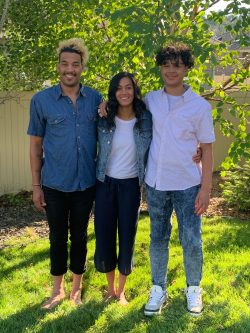 Q: What are your hopes for Washington students?
I hope that our students get the best STEM education possible, no matter their zip code, race, ethnicity, or gender. And I hope they receive that stellar education because those of us that work to deliver on that promise are authentically partnered to pool our resources, knowledge, and social capital to make it happen.
Q: If you could go anywhere in the world right now, where would you go?
There's not just one place!  The bucket list includes Belize and London. However, I am really trying to figure out how to get back to the Philippines to visit my family and bring my son to meet them.
Q: What does life look like for you outside of work?
 Basketball, basketball, and more basketball!  We're a hoop family, so AAU season will be starting back up.  I also recently took up kickboxing to get back into fighting form.  I used to distance cycle and my goal is to do my 3rdSTP (Seattle to Portland) in July 2020.  I also spend quite a bit of time reflecting, fostering my faith, and centering myself around my "why."
Q: What's one thing about you people can't find through the internet?
I LOVE airplanes!  I was a Navy kid who spent significant time on naval air stations.  So yes, "Top Gun" is my favorite movie.  I consider the proximity of our office to Boeing field to be a major bonus.