THROUGH AN INTERN'S EYES: THE WENATCHEE LEARNING TOUR
I have never watched the show Are You Smarter Than A 5th Grader, but I can completely imagine the inadequacies you could feel when talking to one, or in my case, 6th graders, 7th graders, 8th graders, and some high schoolers.
I had travelled to Wenatchee with some of my colleagues on the first ever Wenatchee Learning Tour to see STEM in action for myself and how STEM learning is compelling students to think creatively, and critically, to solve difficult problems. These students totally schooled me in engines, coding, robotics, architectural design, and yes, even yearbook.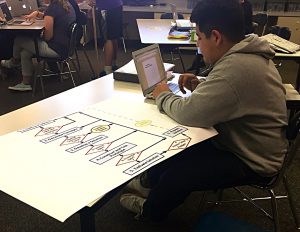 One of our stops was Orchard Middle School, where we visited four classes: Wood Shop, Small Engine Repair, Techlab Yearbook/Tech Helpers, and STEM Projects. I may be revealing my age, but 11 years ago when I was in yearbook, we did not have the technologies that these 6th, 7th, and 8th graders have now. They make editing images and setting up a layout look like a piece of cake. Everything is so technical yet creative with them, and it was wonderful! There were students in Wood Shop creating board games, like Chess and Chutes and Ladders, using the tools as though they were professionals. There was an 8th grade boy in the Techlab Yearbook/Tech Helpers class who was given the task of fixing an image because it was too pixelated. I didn't even know what that meant when I was his age, let alone know how to fix the issue! And a 6th grade girl who was setting up a digital campaign for anti-bullying for the school; her excitement and passion about the subject was just incredible because for her, you could tell that she just wanted to make a difference.
When v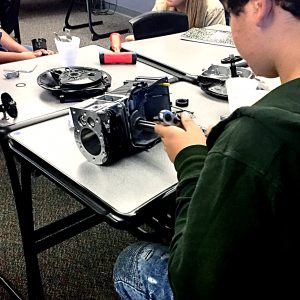 isiting the Small Engine Repair class, I spoke to a boy about why he chose that class as an elective, and he explained to me that it was because he and his father were rebuilding a car engine together and he wanted to know more about engines. In the same class, a young girl said simply, "I want to know how things work. And I like taking things apart and then putting th
em back together." Wow, just WOW. I was in awe of these students. The students inthe S
TEM Projects class who were creating paper rollercoasters. These students were discussing planning, dimensions, and construction; it was just mind boggling. All of the students I spoke with had this palpable excitement about what they were doing. What warmed my heart even further was that all of them were from different backgrounds, ethnicities, and genders. They were
equals in their learning, and it was beautiful.
After Orchard Middle School, we headed over to Eastmont High School to visit the Eastmont Robotics Club. There were a plethora of middle school students working on robots and as they worked, they explained coding to us and how they program their robots to perform certain tasks. An 11 year-old girl had to use layman's terms on what "co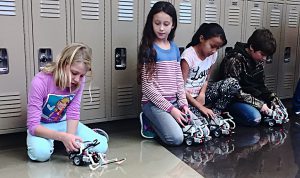 de blocking" was so that we could understand her. There was also this robotics club for the high schoo
l students who compete competitively with a design that they work on collaboratively, and they talked of connectors and coding programs. They were explaining to us how they program their robot to move an exercise ball with just a cell phone and video game controller, and how they were able to make their robot tap on a light switch to make the light change to either a red or blue. The whole demonstration was quite Matrix-esque, if you ask me.
The absolute pride and joy radiating off these students to show off their hard work has only reaffirmed my belief of how important STEM education is to all of Washington's students. These are our future machinists, engineers, coders, programmers, scientists and the list goes on. In Wenatchee, they're working to ensure STEM is accessible to all students, and only exciting things can come from that.