AN INSIDER'S FIRST SNEAK PEEK INTO LEARNING LABS
As announced in late September, Governor Inslee, the Workforce Board, and Washington STEM identified 21 career related programs across the state with the goal of identifying promising practices and other success factors in career connected learning.
For those catching up, the Learning Labs project is a component of the National Governors Association Policy Academy on Work-Based Learning. These Learning Labs will ultimately create more work experience opportunities for young people.
We've had the opportunity to visit several Learning Labs, and so far we have seen the many benefits they bring to the various regions and communities that they are grounded in. Catherine Verrenti, a Washington STEM consultant who leads the assessment and documentation of program practices, spoke of her experience on the Learning Labs site visits, "It's been exciting to see programs at different stages of development, from just starting out to those that are well established, community-wide partnerships."
Gilda Wheeler, senior program officer at Washington STEM, remarked on what she has experienced thus far with the L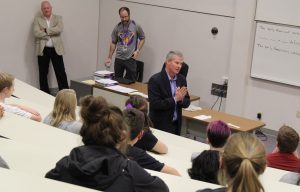 earning Labs, "From elementary kids stringing a line with the local electric co-op in Eastern Washington to a pre-apprenticeship program that introduces women to the trades, we have been gathering 'lessons learned' in career connected learning across the state."
The first Learning Lab observed was the Wenatchee Learns program. Wenatchee Learns is a program of the Wenatchee School District that offers a system-wide approach to career connected learning for Wenatchee's youth. Gilda noted about the Wenatchee Learns program, "The excitement of the young people involved in the Mayor's challenge to help the city address housing needs, the commitment of the Wenatchee School District leadership and staff, and the depth of the community partnerships are extremely impressive."
Nespelem Middle School was the second Learning Lab that we had the opportunity to visit. Lead by teacher Ralph Rise, we saw electric linemen, foresters, and Tribal council members teaching and providing hands-on experiences to an entire community of students, ranging from first to eighth grade.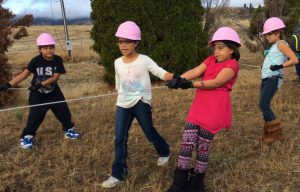 Gilda had the pleasure of visiting this site and said, "It was exciting to see the middle school students alongside the linemen helping the elementary students string the line. This whole school field experience is sure to spark some future career aspirations."
The Technology Access Foundation (TAF) in Federal Way provide their students with job shadow opportunities, internships, and mentorships. They gave us a sneak peek into the classroom curriculum they have provided for middle school and high school students. Tana Peterman, Washington STEM program officer, had this to say about the TAF Learning Lab, "Career connected learning is embedded into the curriculum that all students have access to, which is a unique, equity-focused way to ensure that all children are exposed to multiple STEM pathways."
The Vocational Readiness program at Northwest Youth Services in Bellingham was the fourth Learning Lab we visited. Their program connects with their at-risk, runaway, and homeless youth by providing engaging and interactive activities that support social and practical employment skills. The specific site we had visited was exclusive to the collaboration with the opportunity youth to gain self-reliance and were being taught seed-to-market training. One participant of this program had mentioned how excited she had been that after completing her work at the community garden for three months, she was just going to begin a new job at a local retailer in Bellingham. The skills that are developed in these Learning Labs are designed in such a way that students can directly draw from their experiences and enter the work force feeling equipped and prepared to tackle the new challenges and opportunities they'll face.
The fifth Learning Lab visited was the Tacoma Public Schools—Work Site Learning program, which can provide students the opportunity to receive their required high school credits. The program also provides support for students that are in a variety of worksite learning and external paid internships, as well as support for the internal paid internships that the Tacoma Public Schools CTE department offers. Amanda Fankhauser, Washington STEM program officer, said of her experience at Tacoma Public Schools, "Tacoma Public Schools offers students district-paid jobs, one of which is through a program called Laptops2Kids. Over the course of one year, students employed through this program will take apart and refurbish appro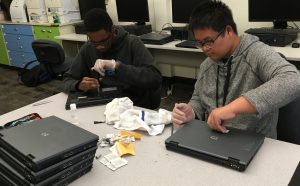 ximately 2,000 laptops. They work together, surrounded by countless pieces and parts, to produce laptops that have a higher success rate than the industry standard for brand new laptops. Not only do they get paid, but they're learning practical skills and they get to walk away with a free laptop – something they would never have access to otherwise. All refurbished laptops ultimately go to families across the district who need them most."
Catherine, who has visited all the Learning Labs so far, noted "while the Learning Labs are all different, the one most consistent theme we have seen is how critically important relationships matter – with students, businesses, teachers, and partners.  Each of these programs have put the right people in the right jobs to forge and nurture those relationships, and it shows!"