Tacoma STEAM Network & West Sound STEM Network Partner for Pierce County Regional Apprenticeship Summit
"If we do nothing else with apprenticeships in Washington, we need to do what?"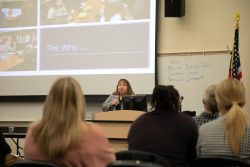 West Sound STEM Network Executive Director Dr. Kareen Borders posed this question at the beginning of the first ever Pierce County Regional Apprenticeship Summit where educators, business and community leaders gathered at Bates Technical College – South Campus in Tacoma to better understand how to develop and scale career connected learning opportunities for students and young adults across the region.
Tacoma STEAM and West Sound STEM, two of Washington STEM'S regional networks, partnered to make this event happen. Their goal was to equip regional leaders, including school district administrators, higher education leaders, county leaders, Washington Workforce Board leadership, and OSPI, with the essential information and tools to share with students who might be interested in applying to an apprenticeship program and to better understand the role apprenticeships can play in a  career pathway.
An apprenticeship is a system of on-the-job training in a certain profession or industry for a student paired with school. In this case, an apprenticeship is complimentary to high school for youth apprentices. Business leaders from MacDonald-Miller Facility Solutions, ITAC, and ANEW had the opportunity to present on their different apprenticeship and pre-apprenticeship programs. Business Solutions, a part of WorkForce Central, gave a highlight of services they offer businesses.
Perry England of MacDonald Miller Facility Solutions shared the relevancy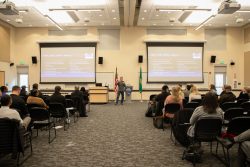 of technology and advanced manufacturing on our everyday lives.
"700,000 espresso machines are connected to the internet. Corporate offices are able to automatically calibrate the quality of the water in those areas to make sure your latte or espresso is the same no matter where you are in the world," said England. These kinds of real-world examples help students see the impact and importance of careers in STEM.
West Sound STEM Network, in partnership with Macdonald-Miller, Siemens and other business partners has two registered Apprenticeship programs- one for adults over the age of 18 and one for high school students. The associate controls specialist focuses on adult learners and the controls programmer is focused on high schools. These programs will make the transition into the workforce seamless for both the employee and employer.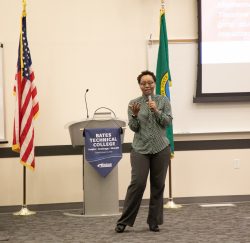 Washington STEM and our regional STEM and STEAM networks understand the importance of increasing career connected learning through apprenticeships and other educational opportunities during and after high school. As there is a growing skills gap in the workforce, both employers and students are working together to create economic opportunity. Employers are having a harder time finding talent and many students don't have access to pathways to family wage careers, especially students of color, students from low-income backgrounds, students living in rural areas, and girls. By providing better and more equitable access to these opportunities, both students and employees are in sync when it comes time to recruit qualified employees.
During his presentation, ITAC recruiter Wayne Bridges recalls a time where he presented to a group of middle schoolers and later found out that a student ended up calling his father to tell him that he wanted to go into the automotive industry.
"This is why we're doing this, providing opportunities for kids to have exposure and interactions with all kinds of careers that will lead them to postsecondary credentials," says Dr. Borders.
Bridges also talked about the importance of recruiting a nontraditional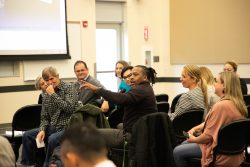 workforce. The automotive industry deemed as the "boys club" is currently dominated by white males. Bridges wants to change the traditional standard for many reasons including that "shops that have an equal number of female and male technicians working have a 41% increase in revenue."
By the end of the summit, participants had the chance to circle back to the question posed at the beginning: "If we do nothing else with apprenticeships in Washington, we need to do what?"
The points of discussion surrounded the sustainability of the apprenticeships. How are we going to work to make sure the students are going to succeed in these places? What kinds of support services will students have before, during and after their apprenticeship? Will students have access to mentors? If we're working hard to support the student to get to these opportunities, how are we holding the employers accountable?
These are critical questions and it was evident everyone in the room was committed to deepening their understanding.  In the end, the goal is not only to bridge the gap between the student and the opportunity, but also to create a sustainable environment for the student to succeed in the workforce.
The Pierce County Apprenticeship Summit was great way for leaders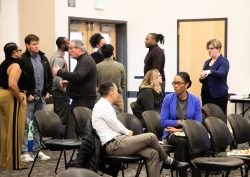 to convene and understand the importance of cross-sector collaboration in bridging the talent gap across Washington. The Tacoma STEAM Network and the West Sound STEM Network will continue the summit next year with continued thoughtful discussions and more leaders who are committed to helping all students succeed in Washington State, especially those furthest from opportunity.