STUDENT DESIGN TEAM NIGHT: STEMFEST FOR GIRLS
In early November we hosted a first Student Design Team meeting with the intention of having students help us design a STEMfest event for girls.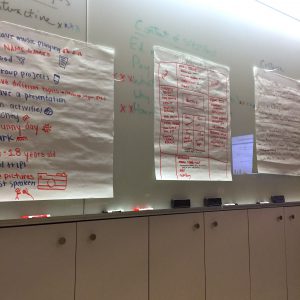 A STEMfest is an event that promotes STEM-related subjects by way of guest speakers, workshops, breakout sessions, etc. The STEMfest we are planning with this group of students is specific to young women and will hopefully excite and inform girls and young women about the possibilities of STEM.
Gilda Wheeler, Washington STEM's senior program officer, who leads this project and organized the meeting, said of her hopes for this collaboration was "That we consider the real needs, hopes, and aspirations of students and that we are seeing and designing our initiatives through those we are serving." The design team students had talked about what they thought STEM was and what their expectations were of the STEMfest event. They then broke up into groups of two and brainstormed ideas of what the STEMfest would look like and what it could offer.
Erica Lane, a Washington STEM consultant, said, "My hope was that the students would utilize this opportunity to advocate for themselves and other students for their education, and lend their leadership abilities to a cause that will potentially benefit other students alike in their surrounding communities. This group of students knocked it out of the park!"
As an attendee, I was in awe of how much input these young women and men were sharing with us about how we can make STEM sound more appealing to their generation. One student named Yasmin told us how excited she was that we had asked students to take part in this project because. She considers herself an advocate for more women in STEM, especially since she is considering a future career in the medical field.
Washington STEM Communications Manager, Danny Gross also joined the student design team meeting to observe design thinking as it unfolded. In design thinking, one of the main priorities is engaging the end user of whatever solution you are trying to create.  "Having these girls be a part of the solution we're trying to design not only increases the chances of greater efficacy, but it allows us to understand their perspectives and the context in which they operate.  Personally, I think we were really able to achieve a better understanding of what's important to these young women and that was due in large part to all of the girls showing up and digging in to the work."
Yasmin and their rest of her peers shared how much they had enjoyed the design session and that they looked forward to the next student design team meeting. I am looking forward to it as well—I can't wait to hear what ideas they all come up with next!