Q&A with Nora Cisneros, Accounting Assistant
Get to know Washington STEM's newest team member, Nora Cisneros Toscano, Accounting Assistant.

Washington STEM is thrilled to have Nora Cisneros Toscano join our team as our much-needed Accounting Assistant. We sat down with Nora to learn a bit more about her, why she joined Washington STEM, and how she came to care so deeply about STEM education.
Q. Why did you decide to join Washington STEM?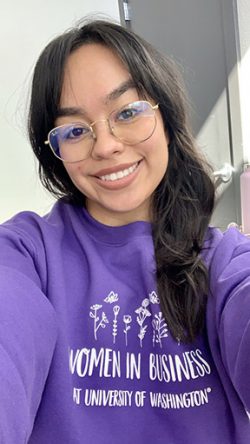 I joined Washington STEM because their initiatives and motives have positively impacted the lives of students, many of whom have similar backgrounds to mine. Growing up, I saw overworked and underpaid teachers go out of their way to motivate students, but their efforts really added to their workloads. Washington STEM is working to transform the systems that have caused this lack of support; and being a part of that change inspires me and makes me feel grateful to be a part of this.
Q. What do equity in STEM education and career mean to you?
As a Latinx woman, diversity and equity are important to me because it has affected me my whole life. While in high school and college, I have not seen many women of color with positions of interest to me. That made it difficult for me to see myself as a CPA, finance specialist, or other business-related professional. Diversity and equity are important to me because I want to be the person to give other women, like myself or my eight siblings (who do not see many Latinx people in role model positions), the perspective of someone who looks like them—representation in these positions matters.
Q. Why did you choose Accounting as your career?
I chose accounting because it is a good foundation that can be applied to any business. In addition to this, I had exposure at an early age. My first job outside of agriculture was working for a local bakery, where I would reconcile the register at the end of the day. I remember it being my favorite part of my work day and I would think about the financial statements and the effect the transactions had.
Q. What was your education/career path?
I am currently a student at the University of Washington – Michael G Foster School of Business where I'm studying Business Administration with a concentration in Accounting, American Ethnic Studies, and International Business.
Q. What inspires you?
My family inspires me every single day. My parents are both farmworkers and have been since moving to the U.S. a decade ago. At an early age, we would go with them to help pick pears, apples, cherries, and seasonal fruit. It is humbling, but I also want to be able to support myself to make sure my parents can leave that work and open their own small business, as my mom has a drive to open her restaurant.
Q. What are some of your favorite things about Washington state?
Washington has been a warm state, not always so literal, but welcoming in terms of other people. I have had many opportunities here, including education, community, and a strong foundation. I especially enjoy the beautiful scenery this state has, with many hikes and other adventurous activities that are available.
Q. What's one thing about you people can't find through the internet?
I love cooking and baking! I enjoy cooking and trying foods from other cultures.