Q&A with Henedina Tavares, Community Partner Fellow with Washington STEM
Get to know Washington STEM's newest team member, Henedina Tavares, Community Partner Fellow
Washington STEM recently welcomed Henedina Tavares as our new data team Community Partner Fellow. We sat down, virtually, with Henedina to learn a bit more about her, why she joined Washington STEM, and what shapes her Doctoral research in educational policy.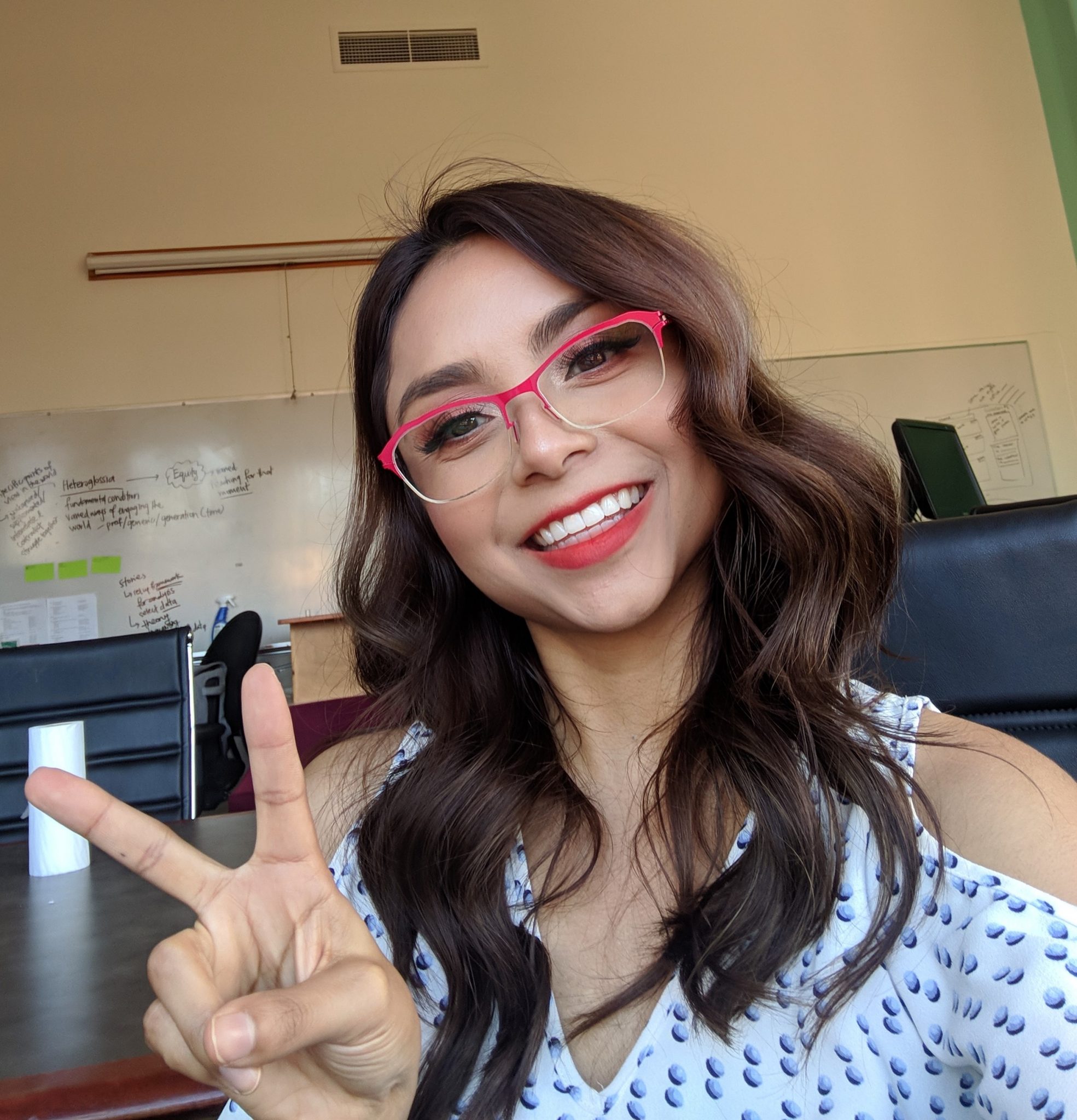 Q. Why did you decide to join Washington STEM?
I joined Washington STEM because of their statewide projects, initiatives, and partnerships helping transform powered educational systems and create and drive futures for minoritized communities and families. And, of course, to support students to study STEM.
I grew up in a rural community. Our school systems lacked the infrastructure to support and provide our students with a robust STEM education. Washington STEM is working towards transforming those systems, and I'm more than happy to be part of that process to re-envision STEM educational pathways.
We're not fixing families or communities. We're fixing systems. And, for me, that's what equity looks like. It's not about placing blame on teachers, educators, communities, or families, but more like knowing the existing systems need to change and we're working towards that. So that attracted me to Washington STEM, and I'm happy to be here and be part of the team.
Q. Can you tell me more about your Doctoral work?
Yes. I'm in Educational Leadership and Policy Studies. Basically, what I'm focusing on is how do we build or cultivate equitable and reciprocal relationships. And when I say "we", I mean school districts working with communities of color, with immigrant families. Oftentimes, there's this practice, this narrative, that assumes school leaders are the ones that have all the expertise. In reality, schools, educators, teachers and school leaders do have the institutional knowledge of how school systems work. But, it's communities, it's families, it's youth who have not just the cultural knowledge, but also know the dreams and the big issues that are going on within the community.
What I'm looking at specifically is, then, how do you create this relationship between schools, teachers, families, specifically immigrant families, to create a more mutual relationship where the community knowledge and cultural knowledge is leveraged and – together collectively – we can create educational changes. I feel that you need those lived experiences from community and from families. That should be the starting point to create changes and to know what education means in a community. It might not always be the same as Western ways of defining education.
Q. What is your ultimate goal in terms of your career? Where do you see yourself after you finish your doctorate?
Ultimately, I want to go into a tenure track position and go into research. I want my research with community to inform policies and for there to be real change at the systems level.
As a first-generation student, I didn't always know that I was going to college. In fact, I'm the first one from my family to graduate high school. It was when I applied to UW, my senior year, that I began to have this critical awareness of inequity issues, especially in education, that I experienced, particularly the ways my parents and family were treated in schools. I had those personal and lived experiences. But, at the time, I never really thought about it (that these [inequitable] experiences are because of the system— that embedded in educational systems is systemic racism). It wasn't until I got to college that I was made aware of it.
Now I'm working on my PhD (which I still can't believe), and I want my work and research to create changes. I think part of that comes from my family, they instilled in me and my brothers that "Your education needs to benefit the community. You're working towards the wellbeing of your community." So, I want to go into a tenure track position and do something that is going to be meaningful (and meaningful for my community).
And I think, especially in the STEM fields, coming from a rural community, a community of immigrants and first-generation students, we need that institutional knowledge. But we also need systems to be redesigned so that they are more equitable for those historically marginalized.
Q. What influenced you to study education policy/leadership?
I would say, for the most part, it was my lived experiences.
Everything I do, everything I've done and the decisions that I make are driven by my experiences, but then also my family's experiences; so I like to say that I carry these transnational memories, these transnational stories, these transnational narratives.
And what I mean by that is, growing up, I heard my parents talk about their experiences in Mexico with the educational school system. Even though I didn't live through that, but, through them, hearing those generational stories that are being passed on, I heard a lot that shaped me. The more I heard about the inequities, even if it wasn't in the US—and then even in the US when they immigrated here—I always carried that. It prompted me to work towards redesigning and creating systems that are more equitable for our community, for my community, for all communities—BIPOC communities, immigrant communities, for women, for students and families in rural areas. I would say, foremost, everything comes from my lived experiences and those transnational experiences that to this day I still carry forward in everything that I do.
Q. What inspires you Henedina?
I know I say community a lot, but what inspires me is that accountability that I have for community; they push me to re-imagine and redesign educational school systems, to work with communities and families. I think growing up in a Mexican immigrant family, they taught me that education— that my education—is working towards community wellbeing.
This is the thing I think is different when we start talking about worldviews, and what inspires, and what education means, because I know in a lot of Latinx communities, and especially my experience with Mexican families, when you talk about education, it literally translates to "educación",  but educación doesn't necessarily mean formal learning. Whatever you learn in school, [educación] embodies more than that. It builds your values. It builds who you are and does so while thinking of others. You always think collectively. I don't think about it as an individualistic effort. I always think about the collective effort and how it is going to benefit others in the long run. Is it going to benefit just me? Is it going to benefit my family or the community and create bigger changes?
That's where I draw a lot of my inspiration, and I wish I could show you…I have so many pictures of family members, community members, and friends that keep me grounded and keep me centered, because, I think, especially going through the educational school system and being in a PhD program, it's hard. It's full of challenging instances. You could lose some of the momentum and you could forget why you're working towards that goal. Well, not that you forget, but sometimes you really feel like giving up.
I recently passed my general exams, but there was a point when I felt like just giving up. But I think I draw resilience and strength from those stories that my family, community, and friends tell. These stories tell me "You need to be here because there's not a lot of people that look like you"—a woman of color who is first generation and who comes from a migrant background—and we need that. It's not just that my perspective is needed, but also the work that I'm doing is needed too. I draw a lot of resilience from community and family, and that's what inspires me.
Q. What work will you be doing with Washington STEM?
We are already looking at systems input data and student outcomes. And now we need a community narrative, so we can tell a story with all three pieces: systems input data, student outcome data, and a student narrative of the impact.
I think we need to include families and communities in the evaluation of different STEM equity program and initiatives, by collecting those lived experiences and narratives that say "This is what's not working for me" and "This is what's working". We need more of that because numbers can only say so much and we don't want to reduce our communities to just numbers. It's powerful to center their narratives, their stories. I'm working towards that and looking for ways to bring more of that student voice, and those family voices, into the decision-making process. How do we help our partners create those changes…not just looking at the numbers, but also looking at what the community is saying…asking communities where the gaps are?
There are gaps, but also resiliency. And I think that's important to remember.
We're building trust; we're building reciprocity with community. How do you build that trust, especially within power dynamics? We need to make sure those power dynamics are mitigated. It's a lot to think about. How do I present myself? What is my positionality? And you have to go into deep reflection about what it means to be in this community, whether I'm part of it or not. What is my position here? How am I presenting myself? How do you build, cultivate, and sustain those relationships? Because, historically, evaluations of communities of color have been used to harm.
We don't want to replicate those same practices of pulling data from communities and then walking away. We want to change, to dismantle, to redesign the research process. How do we do research and evaluation with communities of color? And so, it takes a lot of reflection, but I think we're on a good path to create more equitable relations. We're moving towards a redesign, or even co-design, with family and community practices that are different and more mutual.
Q. What's one thing about you that people can't find via the internet?
I love music and salsa dancing. As a matter of fact, I feel like, at least once a week, I have to dance in my living room with music blasting. It's loud and I'll dance to anything. Even if I'm not the best, I love it. It's a way to get re-energized and express myself.