Joy Assonkin – 2023 Northeast Region Rising Star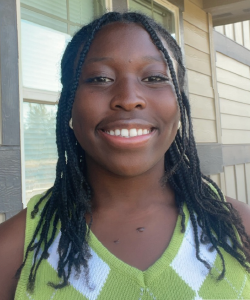 Joy Assonkin
12th grade
Cheney High School
Cheney, WA

Joy Assonkin went from a computer science novice to an academic standout with less than a year of networking classes. She brings a competitive spirit and strong leadership skills to everything she does — including Future Business Leaders of America.



Get to know Joy
When you were five years old, what did you want to be when you grew up?
When I was five, I really wanted to have a bunch of different professions, like Barbie from Life in the Dream House. The main things I wanted to be were a doctor, a professional soccer player, and a firefighter on the side.
What's your favorite STEM subject?
I really like science, especially chemistry, because of the reactions. I like math because I think it's really black and white, and that just works easiest to my brain. But I think technology as a whole just really takes the cake, because it's so diverse and interesting to me.
Who is your STEM role model?
I didn't keep up with a ton of his work, but I love a lot of Thomas Edison's quotes, like the one that says: "I have not failed. I've just found 10,000 ways that won't work", and the one that says: "Genius is 1% inspiration, 99% perspiration." Those just really encourage me.

From the classroom to a national competition
Joy discusses how an interest in computer networking took her all the way to a national Future Business Leaders of America competition.
From Joy's Nomination Statement
"Joy entered my Cisco Networking course not knowing much about computers or Information Technology. Within a month she quickly picked up very complex content and become one of the best networkers in the class. It was fun to watch her growth in skill and confidence as she quickly went from asking questions to answering questions.
"It was fun to watch her growth in skill and confidence as she quickly went from asking questions to answering questions."

I think Joy truly recognized her talents during our Future Business Leaders of America conference where she placed in the top 5 in three different events and in her individual events placed higher than anyone from her class. To go from an IT novice to an academic leader in six months is remarkable growth and can only be done by a remarkable person.
What I find inspiring about Joy is her desire to accept challenge and have the competitive nature to battle through all adversity to be the best. In a class where she was the only girl, nobody studied or worked harder than her. While she is incredibly bright and talented, in a completely new content area, she needed to work extra hard to rise to the top of the class. One day after a test where she got the highest grade in the class, everyone had left the room and I looked at her and said: "You cannot let those boys win, can you?" She just started laughing and said: "NOPE!" I so admire a competitive person who accepts a challenge and is not afraid of any amount of work it is going to take to be the best."
—Adam Smith, AP Computer Science/IT Teacher and District CTE Director, Cheney School District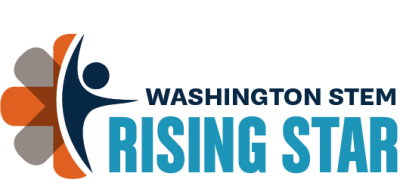 The Washington STEM Rising Star Awards encourage girls to embrace STEM education and to explore the use of STEM in ways that will support their education, career, and personal development and the development and needs of others.
Meet all of the 2023 Washington STEM Rising Stars!