From Spokane to the Sound, Washington State LASER Drives High Quality STEM Education
"As we bring on new STEM teacher-leaders and administrators, we encourage them to get involved with LASER as a way to get grounded in their roles and learn to navigate the complexities of Washington education systems. This work is critical for new educators," Dr. Damien Pattenaude, Superintendent, Renton School District.
Washington's education system is complex; there's no arguing that. In every region of our state, each community approaches K-12 education in a way that works best for them and their students. We believe that's a good thing. Families, students, teachers, and administrators work together to make school as meaningful and impactful as possible. This kind of collaboration is essential to preparing our students for future success. In many ways, people center these relationships in their mind when thinking about how education systems work. But in truth, a vast array of institutions, agencies, non-profits, and other partners work every day to support Washington's students and their families, whether directly or indirectly.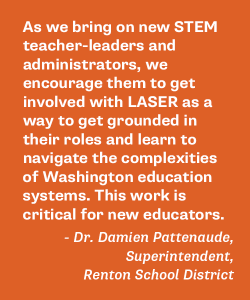 One such partner is Washington State LASER or Leadership and Assistance for Science Education Reform. LASER, in partnership with ten regional alliances, offers leadership and technical assistance, including strategic planning support in six different areas: operations, pathways, community & administration support, assessment, curriculum & instructional materials. LASER plays a key role in ensuring that state science leaders maintain a learning community that helps improve science education, removes barriers to implementation, and provides support at the school and district level.
Over the past three years, Washington STEM and LASER have partnered to create a strategic approach to improving science education, building the internal capacity and skill to better center equity in science and STEM education, and building coherence between different programs and initiatives across the state.
LASER partners with school districts, Educational Service Districts, and STEM Networks across Washington to provide a variety of supports to meet a community's needs. Some of those unique services are:
Connecting rural school districts to regional and state-wide opportunities.
Facilitating cross-district collaboration between principals and educators.
Supporting teachers to scale best practices in schools and across school districts.
Providing the frameworks and technical support needed to center equity in STEM education.
Create and provide online toolkits with critical resources that any teacher can access from across the state.
For example, in Spokane and the surrounding region, the Northeast LASER Alliance has been hard at work partnering with Educational Service District 101 and rural schools in the area to create a foundation for equitable STEM education. The LASER Alliance provides training for elementary principal-teacher teams, access to high quality instructional materials, and connects teachers with regional professional development. In the Loon Lake School District, the LASER team has worked with teachers and administrators to foster a culture of learning among their educator community as they work to capture the enthusiasm of their students and pair it with the rigor and education necessary to thrive in Washington's 21st century economy.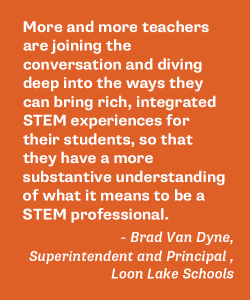 "More and more teachers are joining the conversation and diving deep into the ways they can bring rich, integrated STEM experiences for their students, so that they have a more substantive understanding of what it means to be a STEM professional," said Brad Van Dyne, Superintendent and Principal of Loon Lake Schools.
In King and Pierce Counties, the North Sound and South Sound LASER Alliances partner with the Puget Sound Educational Service District to build STEM leadership capacity across 13 school districts. Participants include district science leaders who are responsible for professional learning, curriculum recommendations, and overall science and/or STEM instruction in their districts. Over the course of several years of gathering data and learning how to better center racial equity, this regional collaborative is focusing on student voice in STEM, elementary time in science, and using high-quality instructional materials across K-12.
In connection with this regional collaborative, the North Sound LASER Alliance has partnered with the Institute for Systems Biology to support Renton School District leaders in developing a coherent and high-quality science experience for Renton students, starting in Kindergarten.
LASER's work, centered on a research- and practice-based framework, helps to create a common vision for equity in science education and leadership assistance in our state, while making sure that the local communities they support can approach equity in science and STEM education in a way that makes the most sense for them.
"As we bring on new STEM teacher-leaders and administrators, we encourage them to get involved with LASER as a way to get grounded in their roles and learn to navigate the complexities of Washington education systems. This work is critical for new educators. It allows them to hit the ground running and create the strategies needed to support teachers and students in STEM learning," says Dr. Damien Pattenaude, Superintendent of the Renton School district.
We know a positive, meaningful K-12 experience in STEM is key to accessing some of the most in-demand, post-high school opportunities. Efforts to improve science education often hinge solely on curriculum and professional development. The LASER model of working across and tying together these essential systems elements, in addition to supporting leadership at the school and district level, community engagement, student voice, and career pathways, provides a framework for a comprehensive approach to improving STEM education.