Data, Partnership, and Impact: Washington STEM and Washington Employment Security Department
Collaboration and partnership are key tenents of Washington STEM and are essential to our success. In our latest blog, we highlight our partnership and data work with Washington Employment Security Department.
As students begin to plan for their futures, alongside their parents, caregivers, and teachers, having reliable data and information is critical. Knowing which careers are available locally, regionally, and state-wide, combined with industry specific information regarding the education and credentials needed for job attainment, can make a world of difference when students consider their education and careers after high school. If you add real-world salary and wage data to this mix, students can begin to see a holistic picture of what they may need to do in order to follow their dreams and passions.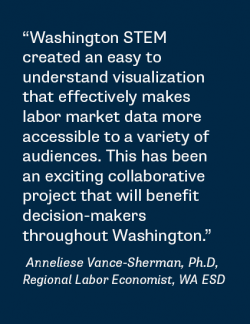 The good news is that this information can now easily be found in two free, publicly available tools made available by Washington STEM and Washington Employment Security Department (WA ESD). Washington STEM and WA ESD have forged a unique partnership over the past several years and these tools and resources are examples of this collaboration.
In the Spring of 2020, Washington STEM and WA ESD came together to refine and amplify the Washington Labor Market Data Tool that we created in 2018. After two years of iteration, design and data improvements, and the development of our unique interactive dashboard, Washington STEM wanted to share what we learned and help create even greater access to this free tool. As one of the main sources of the data driving this tool, WA ESD saw value in incorporating key components of our data dashboard into their website in order to share valuable labor market data in an easy to understand, easily searchable format.
"Our mission at ESD is to provide our communities with inclusive workforce solutions that promote economic resilience and prosperity. One of the ways we work to accomplish this mission is by publishing labor market information that is free and available to all Washingtonians. Washington STEM created an easy to understand visualization that effectively makes labor market data more accessible to a variety of audiences. This has been an exciting collaborative project that will benefit decision-makers throughout Washington."  says Anneliese Vance-Sherman, Ph.D., Regional Labor Economist with WA ESD.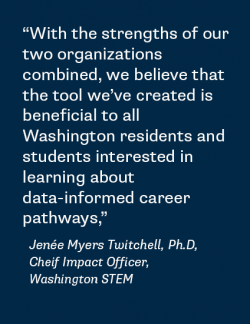 We know that a strong cradle-to-career STEM education will prepare students for the most in-demand, high-paying jobs – STEM jobs. Students on strong career pathways, accessed through STEM education, are better positioned to gain jobs that provide the economic security needed to contribute to the vitality of their families, communities, and local economies. We also know that between 70-80% of students stay close to home after they complete high school. This, among many other reasons, is why it's so critical to have job and career data that is relevant and contextualized for students as they plan their next steps.
"Washington STEM has deep ties to every region in our state through our STEM Network partners, which helps create essential, on-the-ground feedback from local communities. WA ESD is a trusted source for reliable data and with the strengths of our two organizations combined, we believe that the tool we've created is beneficial to all Washington residents and students interested in learning about data-informed career pathways," says Jenée Myers Twitchell, Ph.D., Impact Director for Washington STEM.
We would like to give a special thanks to WA ESD staff members Steven Ross, Anneliese Vance-Sherman, Bretta Beveridge, Josh Moll, Robert Haglund, and Tracy Hall for their partnership and collaboration.