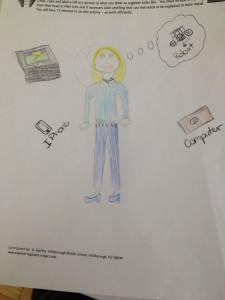 This fall, a group of sixth grade students in Spokane received the assignment "Draw, color, and label a full size picture of what you think an engineer looks like. You must include every detail from their toes and if necessary label anything you feel needs to be explained in more detail."
Most students in the class drew men – either construction workers with hard hats or nerdy guys with pocket protectors and glasses. One student, however, a young woman named Addy, drew a picture of a woman engineer with blonde hair, pearls, and heels surrounded by the tools of her trade – two computers and an iPhone.
Why was this student's concept of an engineer so different than her classmates? Well, likely because for the past year Addy has been involved in Spokane's First Lego League team and has been coached by Cynthia Fauver who is – you guessed it – a woman engineer.
This visual demonstrates so clearly the powerful impact women can make in working with younger students in imagining their future career possibilities and potential. We caught up with Cynthia Fauver to learn more about her work mentoring young people. Here's the interview.
Tell us about your career.
For the past ten years I've been a mechanical design engineer. I design equipment that is used in telecommunications.
What do you like most about your job?
I like being able to create something where there was just blank space before. I like to see something that I developed in my head come to fruition in the world.
Tell us about your work with young people.
I've been coaching with First Lego League for the past seven years. It is a wonderful program that teaches kids a lot about STEM careers. Kids get the opportunity to design a robot to go through a series of obstacles in a course. They build the robot themselves and in the process they learn a lot of problem solving skills. They learn how to build things and make prototypes. If kids stick with the program over a few years, they get exposure to a lot of different fields and things they haven't thought about before.
What is it like to work with girls in the First LEGO League?
For about six years I worked with an all-girl team through the Girl Scouts. Now I work with a boy/girl team; I realized that girls going into STEM careers need to learn how to work with boys because most of the STEM field is men, although I hope that won't be true forever. It's also helpful for boys to learn to value and respect girls in STEM fields at an early age.
What is your favorite thing about working with young people?
I like when students start getting the confidence to not need you anymore. It's rewarding when students can solve their own problems and get through technical, difficult things.
I also like learning where kids are going next. The first group of students I worked with are now seniors in high school, and I'm happy to be able to write some great recommendation letters.
How can someone else get involved with First Lego League?
First Lego League is wonderful. We always need more people involved in the tech industry as coaches. Feel free to contact me at cyndi.n.fauver@gmail.com or go to www.firstwa.org for more information.