Tatum Parsley – Welder and Notable Woman in STEM
After high school, Tatum Parsley took a welding course and began a 17-year career in the industry. Now she is an Instructional Weld Tech at Clarke College.
Can you explain to us what you do?
I have two jobs here at Clark College. I'm the Instructional Weld Tech, which means that I am an assistant teacher to the instructors in the classroom and in the welding shop. I help the students with their welding, I help them set up machines, and I help the instructors set up demos.
I'm also an Outreach Coordinator, which means that I go to high schools to show students about our welding program. I have some welding simulators that I bring that the kids can try. I also reach out to industry people to find different jobs that our students could potentially get after they're done with, or during, their courses.
What was your education and/or career path? How did you get where you are now?
I graduated high school was just kind of living life for a little bit. I was told by iron workers that if you take some welding courses, it will help you get hired faster. I came to Clark College and took some welding classes and ended up out in the industry.
I'd been a welder for about 17 years and then just kept wanting to come back to Clark. I took a sculpture welding class, which was amazing, and then applied to work here because I just loved being here.
What or who were some of your most important influences that guided you to STEM?
I kind of got into it on my own. My family is very supportive with my welding and pushes me to move further with it. But I didn't have anybody in my industry that pushed me to it – I just did it on my own, but with very strong support at home from my parents and my husband. It all comes from my family.
My instructors – Brian McVay, Chad Laughlin and Wade Hausinger – were pretty influential. They are extremely supportive and have taught me so much since being at Clark College.
Here at Washington STEM we are starting to talk about "early math identity." A positive early math identity – knowing you can do math and that you belong in mathematics – helps students succeed in STEM. What were some of your earlier experiences in math, and how do you think that impacted your career choice?
In high school I struggled in math, so my career choice has actually strengthened my math skills. One instructor with the union took time out of his personal life to have a math class for me and a few other students. He got us converting fractions and all that stuff that you forget from high school because it's been so long. He made it make sense. I don't mind math anymore – I used to loathe it, now I kind of like it. It's fun to figure out.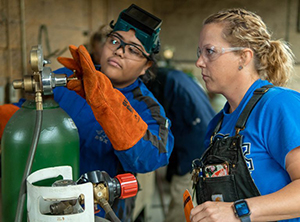 What is your favorite part of your job?
My favorite part of my job is watching the students succeed. Some of them have never touched a welder – they've never even learned how to read a tape measure. It's amazing how fast they pick up the skills. They're looking into and getting jobs while still going to school and being super successful. I love watching them be excited about something that I'm very passionate about.
What do you consider your biggest achievement in STEM?
I was just named the Industry Partner of the Year with Career Connect Southwest at ESD 112. That was amazing to get that award. Sharon Purdue and Chad Mullins from ESD 112 nominated me—which was really kind of them. So far that's been my biggest success – getting that award was a big deal.
Are there any stereotypes about women in STEM you'd like to personally dispel?
People think that women are just fragile, and you've got to walk on eggshells with them. We're very strong and very capable and very smart. We show that we're equal – we just continue to work hard and strive for equality in STEM and in the workplace.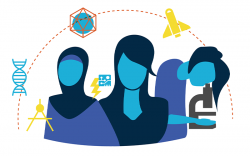 What unique qualities do you think you bring to your work?
I look at all aspects of what we're doing, not just learning the skills, but what you can actually do with those skills. I'm looking at all our students and where they could end up. I personally make a connection with them and try to help them find their path. I bring an artistic side to my work as well.
How do you see science, technology, engineering and or math working together in your current job?
It all pertains to welding. Science: you've got to know what materials you're working with, what's going to happen when you put a torch to it, how it's going to react. Technology: we have a robotic welder. Engineering: we need engineers to know how the pieces go together. Math: you need to know if something's going to fit, you need to take measurements. It all works together.
What would you like to say to young women thinking about beginning careers in STEM?
Do it. Go for it. Don't let anybody tell you that you can't – keep pushing. Know your boundaries, speak up for yourself, and take responsible risks in your career. Love yourself and find success in any way you can.
Can you share a fun fact about yourself?
I make metal art. I took a sculpture welding class and we had to make a big project at the end – I made a giant metal lotus flower. Then I started making garden art with recycled old car parts and tools and rusty wrenches – stuff like that. It's so fun.