3rd Annual Washington State STEM Signing Day!
Our third annual STEM Signing Day, in partnership with Boeing, is just around the corner! We are looking for inspiring high school seniors from across Washington State to join us!
Washington STEM and Boeing continue to closely monitor the spread of Coronavirus Disease (COVID-19) in our state and across the globe. Our hearts go out to those who are affected, and to the families of those who have lost loved ones. 
The health and well-being of all 2020 STEM Signing Day participants remain our top priority, and we are closely following guidance from health officials. At this time, 2020 STEM Signing Day is planned for May 6, 2020, however, we will continue to monitor the evolving situation and update as needed.
If you have any questions or concerns, please do not hesitate to reach out to Jayme Shoun at jayme@washingtonstem.org.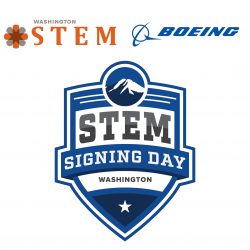 Who: Any high school senior in Washington State.
What: STEM Signing Day is a day where students publicly commit to pursuing STEM — whether through a 2-year degree or 4-year degree.
Where: Boeing Future of Flight at Paine Field
When: May 6th, 2020
Why: There is a high demand for STEM talent in Washington and we want to recognize and celebrate students as they make a commitment to continuing education programs focusing on STEM.
 How to apply: Fill out this application and be prepared to answer these questions:
"STEM" is the integration of science, technology, engineering, and math (and sometimes art, environment, and other areas). Please describe a STEM experience you have had in or out of school that influenced your education or career path. (max: 250 words)
If you had unlimited resources and support, what global, local, or individual STEM-related problem would you work on?
What advice or encouragement would you share with today's 3rd graders about learning and pursuing STEM opportunities?
Travel Assistance: Financial support for travel is available, and we will work with students' individual needs if selected. For those on the east side of the mountains, travel support plus one night in a hotel will be available.
Applications are accepted on a rolling basis until March 20, 2020. If you have questions, please contact jayme@washingtonstem.org. Thank you!