STEM Networks host hands-on, future forward training for k-12 teachers
The Controls Technology Workshop immersed teachers in the basic concepts of Control Systems Technology by using toys as analogs for sensors and complex decision trees.
The Controls Technology Workshop, June 23-24, 2020
Video by Amee Coulter, Central Kitsap School District
An infrared thermometer carefully tracks the temperature of a melting ice cube. As the puddle under the cube grows, the temperature on the readout rises. The teacher holding the thermometer shifts quickly to a Turing Tumble (a game that models how computers work,) which in turn triggers an electric light and sound mechanism built with Snap Circuits. Finally, the educator triggers a marble in a Mousetrap game. It's an entertaining set of conditionals—and a hands-on opportunity for teachers to design and test a control system in action.
The Controls Technology Workshop, hosted virtually on June 23-24, 2020, was developed by the West Sound STEM Network in partnership with the Tacoma STEAM Network and OSPI. The unique event immersed teachers from across the region in the basic concepts of Control Systems Technology by using models such as games, industry tools, and simulations as analogs for how sensors trigger complex decisions and actions.  During the time of the coronavirus pandemic, our STEM Network partners continue to innovate using the tools at their disposal to create meaningful, memorable experiences for their communities.
"Our school districts are leaders in innovation, are committed to disrupting inequity, and have a laser-like focus on providing multiple access points for ALL students to STEM pathways," said Dr. Kareen Borders, Executive Director of West Sound STEM Network.  "By partnering with industry leaders such as MacDonald-Miller Facility Solutions and Johnson Controls Incorporated, we collectively leverage public-private partnerships to do what is right for kids."
WHAT IS CONTROLS SYSTEM TECHNOLOGY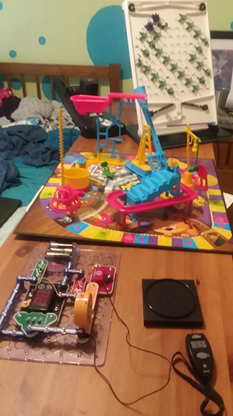 A wide range of jobs and products use control systems, from the operations at your local power plant to the automation in your home thermostat. The Control Technology Workshop was designed to help teachers understand the basics of Control Systems Technology careers as part of larger career-pathways initiative spearheaded by Career Connect Washington, a collaboration between business, labor, education, and community leaders who are creating work-based, academic programs for young people to explore and learn, while earning a paycheck and college-level credit. Washington STEM serves as a lead partner on this initiative. MacDonald-Miller Facility Solutions, Johnson Controls Incorporated, and Siemens partnered with West Sound STEM Network, CTE Directors, Dave Stitt, Peninsula School District, and Tacoma STEAM Network to co-develop the recently approved registered apprenticeships – Controls Programmer, which is designed for high school students, and Associate Controls Specialist, which is for adults 18 and up.
"The building automation industry has a critical need for workforce development," said Perry England, Vice President at MacDonald-Miller Facility Solutions and State Workforce Board Chair.  "Career awareness, exploration, and preparation start with our k-12 system and partnerships like these are what's needed to ensure access for all Washingtonians to family-wage careers."
Dr. Kareen Borders, Executive Director of the West Sound STEM Network, which is a member of Washington STEM's state-wide STEM network, co-created the Controls Technology Workshop to support K-12 standards-based design challenges. The workshop introduced teachers to the world of building automation, controls technology, and computational thinking, and elevated teacher competencies in algorithmic applications, computer science, physics, and safety. Participants completed the workshop with a better understanding of the career pathways available to students in the building automation sector, including Controls Programmer and Associate Controls Specialist occupations, and the student career-launch experiences available in local high schools and community colleges that lead to family-wage jobs.
CAREER CONNECTED LEARNING AND ACCESS TO OPPORTUNITY
The Career Connect Washington initiative was funded by the state in 2019 to help guide students to educational pathways leading to in-demand, family-wage careers. More equitable access to these educational opportunities, like the Controls Programmer Apprenticeship pathway, creates a more qualified workforce, reduces the skills gap, and provides students, especially those furthest from opportunity, a pathway to STEM jobs across the state.
Video by Chris & Kristin Coovert, Peninsula School District
"This was an amazing course about something I didn't even know was a possibility," said a teacher and workshop participant after the event. "We educators need courses like this so that we can be current and relevant for our students or we will not be able to do our job of preparing them for their future instead of our pasts."
COLLABORATION CREATES CONNECTIVITY
Also collaborating in the event were industry partners Alyssa and Paul Boswell, creators of the Turing Tumble marble powered computers, Corinne Beach, K-12 STEM Outreach Coordinator for Puget Sound Naval Shipyard (PSNS), and Kim Reykdal, Program Supervisor Lead, School Counseling at Washington Office of Superintendent of Public Instruction (OSPI). Partners worked together with West Sound STEM and Tacoma STEAM to develop hands-on, standards-based instructional units modeling key concepts that can be integrated into K-12 classroom materials along with an understanding of how classroom learning ties into plans beyond high school.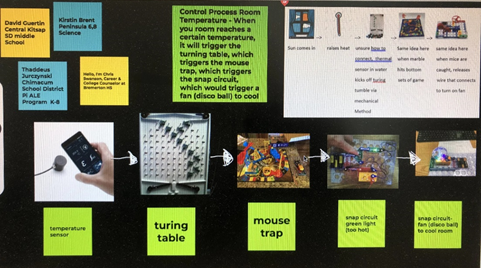 "Our partnership with West Sound STEM is amazing! Not only did we have Tacoma-Pierce County teachers participate, but also Expanded Learning providers who support our students outside the classroom," said Chanel R. Hall, Network Director of the Tacoma STEAM Network. "It's experiences like this [workshop] that connect our teachers and educators to the workforce and keep them abreast of the growing opportunities."
The Controls Technology Workshop provided teachers with a fun, hands-on opportunity to learn about one of the many career pathways available to students in the South Sound/Kitsap and Olympia peninsula regions. Teachers left the workshop with a better understanding of not only how computers and control systems work, but also how these skills can lead to in-demand careers for their students. Industry and content connections in the morning provided a foundation for collaboration and classroom application design in the afternoon. The collaboration between West Sound STEM, Tacoma STEAM, OSPI, Career Connect Washington, and industry partners showcases their larger commitment to providing all students, regardless of color, gender, zip code, or family income, with the opportunity to thrive and take part in Washington's STEM economy.