Representative Dave Paul Selected as the 2022 Legislator of the Year
After a statewide nomination process, Washington STEM is pleased to announce that the 2022 Legislator of the Year Award will be given to Representative Dave Paul (LD 10).
FOR IMMEDIATE RELEASE: August 30, 2022
CONTACTS:  Migee Han, Washington STEM, 206.658.4342, migee@washingtonstem.org
Washington STEM Names Representative Dave Paul 2022 Legislator of the Year
SEATTLE, Wash. – After a statewide nomination process, Washington STEM is pleased to announce that the 2022 Legislator of the Year Award will be given to Representative Dave Paul (LD 10) for his leadership and efforts to pass HB 1867: Dual Credit Program Data in the 2022 legislative session.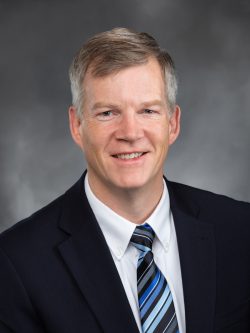 Representative Paul represents the Whidbey Island area and serves on the College & Workforce Development committee. He was selected for his strong leadership and efforts to increase access to Dual Credit during the 2022 legislative session as the prime sponsor for priority legislation HB 1867: Dual Credit Program Data. Representative Paul has a background working in higher education most notably spending the last 14 years at Skagit Valley College and has a passion for helping non-traditional students navigate a changing employment landscape. He continues to be a champion and partner in STEM education. Congratulations and thank you to Representative Paul!
HB 1867 requires dual-credit data reporting including information about course completion and successful transcription of credit. The legislation also ensures that all measures are available by race, income, gender, geography, and other demographics. This reporting will help inform state policy recommendations for closing dual credit gaps from the moment students attempt a course all the way through to postsecondary progress. HB 1867 was signed into law by Governor Inslee.
"Representative Paul's leadership in dual credit data reporting will result in evidence-based improvements for postsecondary readiness and for credential attainment, particularly for Black, Brown, Indigenous, rural, and low-income students. Dual credit is a key lever we can push in order to attain our goals to ensure Washington students are career- and future-ready," said Jenée Myers Twitchell, Washington STEM's Chief of Impact and Policy.
This is Washington STEM's 4th annual presentation of the Legislator of the Year Award. The award is presented to members of the State Legislature who have demonstrated extraordinary leadership in advancing legislation and policies that promote excellence, innovation, and equity in STEM and education for all Washington students, especially those furthest from opportunity. For more information, please click here.
***

About Washington STEM
Washington STEM is a statewide, education nonprofit leveraging STEM for social change, removing barriers to credential attainment, and creating pathways to long-term economic security for historically excluded students. In our state STEM is at the forefront of discovery, on the frontlines of creative 21st century problem-solving, and serves as one of the largest pathways to family-wage careers and long-term economic security. STEM pathways have promise like few others in Washington and it is imperative that Black, Brown, and Indigenous students, rural students, students growing up in poverty, and girls have access. Washington STEM is working to ensure that all students have equal opportunity to benefit from the transformational possibilities that STEM has to offer. For more information, go to www.washingtonstem.org. You can connect with us on Twitter (@washingtonstem) and via Facebook and LinkedIn.