Q&A with Soleil Boyd, Senior Program Officer, Early STEM
Get to know Washington STEM's newest team member, Soleil Boyd, Senior Program Officer.
Washington STEM is thrilled to have Soleil Boyd join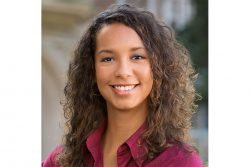 our team as Senior Program Officer for our Early STEM initiative. We sat down with Soleil to learn a bit more about her, why she joined Washington STEM, and how she came to care so deeply about mathematical experiences for children, parents, and educators.
Q. Why did you decide to join Washington STEM?
I decided to join Washington STEM because I really wanted to continue to focus and go deeper on early STEM and mathematics. A lot of the work I did before I joined Washington STEM was centered around working with young children, their families, and educators. My goals have always been to help support them in enjoying math, to address fears or problems with doing math, and to think about how we can make math part of our everyday lives. Washington STEM was the perfect fit for the next phase of my career. I'm looking forward to working at a state-wide level and supporting communities and families across Washington.
Q. What do equity in STEM education and career mean to you?
I believe that at a fundamental level, equity in education and career means that there are no barriers between you and your potential. I think for young children, this means that any interest in math or science or literacy or friendship is cultivated and never hampered by anything material or relational. You have the relationships and environments you need to learn about and gain the knowledge that allows you to explore what interests you.
Q. Why did you choose Early Learning/Early STEM as your career?
There are two main drivers for me when it comes to pursuing early STEM. When I was working on my Ph.D., I had the opportunity to work with African American moms to see how they taught math in the home. The big takeaway for me was that these moms are amazing and doing so much to support their children's math learning. But many of the moms had had bad experiences with math when they were in school and weren't always sure how to approach the math that their children were learning at school now. I wanted to change that by creating better partnerships between educators and families when it came to early math, and I believe we can do that at Washington STEM. The other catalyst for me were the outcomes in early math, especially for our priority populations. Once I saw the data, I said to myself, "Something's really wrong here. The disparities between different racial groups shouldn't exist. We should be doing more." And so, I decided to do more.
Q. What was your education/career path?
My education and career path weren't exactly linear, but each step along the way was critical in leading me to where I am now. My college education originally began in California at Life Pacific College, where I focused on Biblical Studies. After my BA, I realized I wanted to do more than work in the church community, so I pivoted towards teaching pre-K. I loved it. During this time, my passion for teaching children and math took off. Once I found that passion, I began my associate degree at North Seattle College, where I focused on early childhood education. While I was working on that associate degree, I started my master's degree at the University of Washington, where I studied human development and cognition. When I learned just how much brain development happens in a child's first years, I was further drawn into early math as my focus. I finished up my master's and associate's degrees around the same time, and from there moved into my Ph.D., where I went deeper into human development and cognition and early childhood learning and educator attitudes towards math.
Q. What inspires you?
There's no single answer to this, if only because I draw inspiration from a wide variety of people and places. The community members who work day in and day out to make children and early math learning a priority inspire me. Civil rights leaders like Bob Moses, who championed early math through the Algebra Project, inspires me. My family also plays a massive role in inspiring me, especially my grandmother. In the 40's she got her degree in nutrition from the University of Washington and in many ways was a woman ahead of her time. Her love of education is something that I've always inspired by.
Q. What are some of your favorite things about Washington state?
I had the good fortune of growing up in Washington, and the natural beauty of our state has always struck me. It's gorgeous. It doesn't matter where you are, but you've likely got a good view of mountains, trees, or water. I need to see a body of water at all times! I live in the Seattle area, but I also love traveling to the eastern part of the state as well. It's just as beautiful as the western side but has its unique qualities, too. One of my favorite things to do is make the drive to The Gorge whenever I can to catch some live music. There's no better venue in the country!
Q. What's one thing about you people can't find through the internet?
I don't think most people know this, but I played the trumpet! During my junior year in high school, I won the Washington State Solo Ensemble Trumpet Award, which means that technically, for one year, I was the best high school trumpet player in the