Q&A with Min Hwangbo, Impact Director
Get to know Washington STEM team member Min Hwangbo, PhD, our new Impact Director.

Washington STEM is excited to have Min Hwangbo, PhD join our team as the new Impact Director. Recently, we sat down with Min to learn a bit more about him, why he joined Washington STEM, and how he came to care so deeply about STEM education.
Q. Why did you decide to join Washington STEM?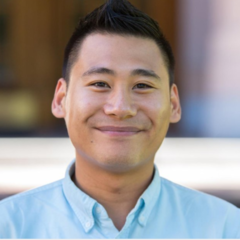 The biggest reason was that throughout my career, I've been focused on content expertise in early learning, policy, and systems. I wanted to broaden my knowledge, throughout post-secondary. I really believe in the power of education and creating opportunity through an equity-centered approach. When done right, it really can change someone's life. When it comes to equity specifically, a lot of people have lenses that they look through, whether that's race, ethnicity, or gender. For me, I see immigration, economic status, power dynamics, and who gets to be at the table to make decisions. You don't see families and students at those same tables providing input. I want to push towards that, engaging with all levels of stakeholders. I want to make sure those impacted are engaged in the process.
Q. What do equity in STEM education and career mean to you?
As a Korean, stepping my foot into a STEM career compared to other racial or ethnic groups, I was given a lot of opportunities as a kid – I was able to access AP classes, high-quality science programs, gifted education programs, I.T., data tools, and actually have a career pathway as a data scientist. Those opportunities were given to me, and those people did not see me as a Korean person, but just a student who wanted to learn. For other students, I want to start figuring how we can use demographic data to create opportunity for students.
Q. Why did you choose data science as your career?
It's something that can be applied to a lot of domains. I see myself as a generalist, and I really enjoy being able to show people evidence about what works best. With lots of folks being interested in data science, I feel like I have a lot of opportunity to showcase what I know in a variety of ways through this work. I can work with all sorts of great social science projects in the future. For early learning specifically, I see a wide variety of programs that come together to support kids and families, but I know there's more that can be done. I want to help really build those pipelines that connect families, especially those that have been underserved or are considered vulnerable. Data science is the tool that allows me to do that.
Q. What was your education/career path?
My education/career path has been a winding road, but I am so grateful for it. It really all started when I was a young kid and began kindergarten at a Buddhist temple (내원정사 유치원 | Naewon Jungsa Kindergarten). It was an extraordinary experience that I was privileged to have. From there, I moved around and was able to experience education across multiple countries, including Korea, New Zealand, and Canada. I was able to really see what was working for me and what wasn't. I was able to skip the 11th and 12th grade in High School and get my credentials and a degree from a community college. From there, I transferred to a university where I focused on early learning, early childhood, and family studies. I then decided to pursue my master's degree and PhD, where I touched on education policy, learning sciences, and demographic methods. Despite being where I'm at now, it was never clear to me what my end goal was, but I did want to keep trying new things. Whether that was being a pianist, a soccer coach, a pre-school teacher, and now a data scientist. I think that kind of experimentation is important.
Q. What inspires you?
I draw inspiration from the people I work with directly and indirectly. When I can see my team growing, or a community partner growing in their career or academic journey, I can see myself growing alongside them. That brings me a ton of inspiration. My wife probably brings me the most inspiration, though. She's an epidemiologist and has been collecting data around COVID-19 since the pandemic began. When I see how hard she works, in some of the most challenging conditions, it shows me that maybe I can do even more. The second person would have to be my mom. She passed away from cancer, but her memory keeps me centered on my family values.
Q. What are some of your favorite things about Washington state?
I love the cold, rainy weather. It's something that brings me joy. I think I function better here! I love walking trails early in the morning, and I don't know if there's anywhere else that provides that same feeling. The nature I'm able to access feels like a privilege. I love driving around and exploring.
Q. What's one thing about you people can't find through the internet?
I used to be a tank driver for the Korean military! During my time in the military, I took the top prize among 73 cadets for tank driving and won a commendation. Additionally, when I was a kid, I was awarded 4th place in a major piano contest and thought I was going to be a pianist. But from there, my mom encouraged me to consider other career pathways. That's when I started thinking about becoming a soccer coach.