Q&A with Kimberly Lawrence, Notable Woman in STEM
Kimberly Lawrence is a Water Engineer at Jacobs and a Washington STEM Notable Woman in STEM. Kimberly is a community builder, and advocate for women in STEM, and is working to make the world a better place through engineering.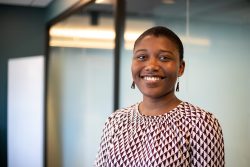 Kimberly focuses on projects that provide clean drinking water for communities across the Puget Sound, wastewater projects that are designed to reduce environmental impact, as well as applying her expertise towards earthquake preparedness for the Puget Sound's water supply. Kimberly is originally from Barbados and Dominica, two small islands in the Caribbean, and says the natural beauty of the islands is what gave her the inspiration to pursue STEM.
Q: What was your education and/or career path? How did you get where you are now?
For my bachelor's degree, I studied chemistry and math. I love these two subjects. But as I was learning more about these subjects, I felt like I wanted to do more. I wanted to have a more direct positive impact on people's lives. It was in college when I figured out what I wanted to do and what that career is called – environmental engineering. Environmental engineering combines my love of learning and science with making a positive, visible impact on people's lives while also protecting the environment. After college, I specifically sought out internships that were related to environmental engineering. I was fortunate to have two internships, related to infrastructure and program management, that helped prepare me for my career. To be an engineer I knew I needed a good educational foundation, so I applied for graduate degrees in civil and environmental engineering. I ultimately chose to pursue my master's degree at Stanford. That degree challenged me and helped lead me to my current job as a water engineer.
Q: Who were some of the most important influences that guided you to STEM?
For me, there were two important sources of inspiration, my parents and my teachers. My parents always emphasized the importance of education, knowledge, and developing oneself. I got my love of reading books from my father, and my mother has always been great at math, which I found inspiring. My love of learning was heavily influenced by them. Also looking back, this question makes me think of how fortunate I've been throughout my whole life, at least academically, where I've had a lot of outstanding teachers. Teachers who are passionate about the subjects that they're teaching can help pass that passion on to their students, which is what happened with me and STEM. I'm grateful to have had great teachers in my life.
Q: What is your favorite part of your job?
Two of my favorite things are the challenges and problems I get to solve, and the ability to see the real, tangible positive impact I get to create in people's lives. For example, if I'm working on an infrastructure problem that's designed to create clean drinking water for a community, whenever we're done with that job, I can see that I've helped improve the quality of life for people. That gives me a great sense of satisfaction.
Q: What do you consider your biggest achievement in STEM?
There a few things I'm particularly proud of. The first was getting my master's degree. Graduate school wasn't easy. It was challenging but incredibly rewarding. I learned so much more about my field from professors who've been in my industry for decades. It was also challenging moving overseas to the U.S., but with the support of my community, I was able to graduate with a degree in Environmental Engineering and Science. As a Black woman in STEM, it was so important that I found a supportive community where I was studying. From the Black Community Services Center to the Black Engineering Graduate Students Association, it was great being able to talk about shared experiences, our work, and about different challenges that we were dealing with. The second is being accepted to a global leadership program for women in STEMM (Science, Technology, Mathematics, Engineering, and Medicine) – Homeward Bound. This program focuses on equipping women with backgrounds in STEMM to become leaders and effect positive change as it relates to the environment and climate change. The goal is to ultimately have a global network of 1,000 women leaders helping to make those changes across the globe. I'm extremely honored to be among such inspiring women from around the world. The program involves 12 months of online training on topics related to science communication, visibility, and self-care. The last phase involves three weeks of continued, intense training, during a trip to Antarctica.
Q: What unique qualities do you think girls and women bring to STEM?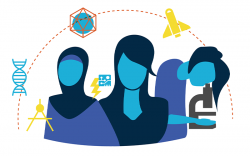 The women that I have worked with so far seem to be exceptional at organization and empathy. Recently I read a Harvard article that mentions women consistently rank higher than men on qualities that employees desire from their leaders, including compassion, and it's not hard to see why. I am continually in awe at how all the women that I work with can balance so many different projects and commitments and still be awesome at them all. The women that I work with and the way that we communicate with each other is very supportive and uplifting. This translates to a greater ability to build inclusive, diverse teams, which is extremely important for better decision making and success. It really encourages you to do better because you feel like you're in an environment where people want you to succeed.
Q: How do you see science, technology, engineering, and/or math working together in your current job?
As a water engineer, naturally, I see engineering every day in my job, but science, technology, and math show up every day too. Let's take a water treatment plant, for example. I need to think about what's in the water as it makes its way to someone's home. There are health standards that I need to meet as the water leaves the treatment plant, and science can help me better understand what can and can't be in drinking water. I use technology and tools, like geographic information systems, to help me better understand what's happening underground and where water is being treated. Also, math helps makes sense of all this by allowing me to perform calculations and develop the right plans of actions for water treatment and conveyance systems.
Q: What would you like to say to young women thinking about beginning a career in STEM?
Be yourself. Remember who you are and what your values are. It's critical to know what you're passionate about and know what motivates you. I've always tried to make decisions that are guided by my core values, and that helps a lot. Building professional networks is also important, especially as a woman in STEM. Building a community for yourself wherever you go should always be a priority. Also, don't be afraid to ask for help! Reaching out to people who might have similar goals or have similar backgrounds can be a big help in getting you where you want to be. Lastly, don't put limits on yourself. As a woman or a person of color, unfortunately, there may be others who may try to limit you based on their preconceptions – don't help them! Keep going, keep working, and keep pushing yourself. You're capable of more than you know!