Press Release: Washington STEM Selects Lynne Varner To Serve As New CEO
Washington STEM Announces New CEO.
FOR IMMEDIATE RELEASE: June 5, 2023
CONTACTS: Migee Han, Washington STEM, 206.658.4342, migee@washingtonstem.org
Washington STEM Announces New CEO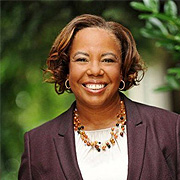 Seattle, Wash.—The board of directors of Washington STEM is pleased to announce that after a thoughtful and robust search, education leader and award-winning veteran journalist Lynne K. Varner has been selected as the new Chief Executive Officer.
"With decades of experience working on education issues and policy, Lynne is an accomplished leader with a life-long commitment to broadening access to education. She also brings deep community capital and relationships across Washington state, all of which she will bring to bear in her role as CEO," said Mary Snapp, Washington STEM board chair.
For the past nine years, Varner served in leadership roles at Washington State University, most recently as an Associate Vice Chancellor on the Everett campus. She led campus-wide initiatives to increase college enrollment, public-private partnerships in underserved communities, and led strategic conversations in campus expansion and student engagement.
Varner is an award-winning journalist recognized for her groundbreaking stories and commentary on race relations and public education at The Seattle Times. While there she worked as a news reporter, member of the editorial board and columnist, focusing on a range of public policy issues, with a particular focus on education: early childhood, K-12, and higher education. Varner has served on the boards of the American Red Cross, the National Association of Black Journalists, and was chair of the Board of Directors of Cascade Public Media, which under her leadership, won the 2021 DEI Award from the National Association of Corporate Directors for "governance that holds DEI at the center of its vision, actions and results."
Varner received a Bachelor of Science in Communications from the University of Maryland and earned a certificate in specialized media training on education policy from Columbia University School of Journalism. She was a John S. Knight Fellow in Journalism at Stanford University and held fellowships at the Poynter Institute for the Study of Journalism, the Pew Charitable Trusts Foundation, the Maynard Institute for Journalism Education, and The Casey Journalism Center for Children & Families.
As a first-generation college graduate, Varner brings a strong commitment to improving education access for all students across the state. She will lead Washington STEM staff to the successful completion of its current strategic plan which focuses on expanding access to STEM education in Early Learning, K-12, and Career Pathways. She will leverage her ties with local organizations, such as the Technology Access Foundation and Advancing Science in America, to advance equity in STEM education. Varner is a member of Delta Sigma Theta Sorority, the Greater Seattle Chapter of the Links, Incorporated, and the International Women's Forum.
Washington STEM, a statewide education nonprofit, works to leverage STEM in service of social change. Together, in partnership with 10 regional STEM Networks, they work to ensure that students who have historically been systemically underserved have access to high-quality STEM education and pathways to postsecondary education that will help them access family-wage jobs and thrive in a technology-driven economy. They convene business, education, and community leaders to identify smart, scalable solutions that help improve access for students of color, rural students, students experiencing poverty, and girls and young women, collectively impacting more than 1,000,000 students across the state from preschool through postsecondary education. Varner's leadership will help the organization strengthen the statewide partnerships that improve educational equity for all students across Washington. Her start date is August 1.
***

About Washington STEM
Washington STEM is a statewide, education nonprofit leveraging STEM for social change, removing barriers to credential attainment, and creating pathways to long-term economic security for historically excluded students. In our state STEM is at the forefront of discovery, on the frontlines of creative 21st century problem-solving, and serves as one of the largest pathways to family-wage careers and long-term economic security. STEM pathways have promise like few others in Washington and it is imperative that students of color, rural students, girls and young women, and students experiencing poverty have access. For more information, go to www.washingtonstem.org. You can connect with us on Twitter (@washingtonstem) and via Facebook and LinkedIn.