Meet Lisa Jackson, Senior Investigator at Kaiser Permanente Washington Health Research Institute and Notable Woman in STEM
Lisa Jackson is a doctor, infectious disease epidemiologist, and Senior Investigator at Kaiser Permanente Washington Health Research Institute. She works with a team of scientists to lead clinical trials of vaccines.
Recently, we had the opportunity to (virtually) interview Lisa Jackson, Senior Investigator at Kaiser Permanente Washington Health Research Institute, to learn more about her career path and work. Read on to learn more.
Can you explain to us what you do?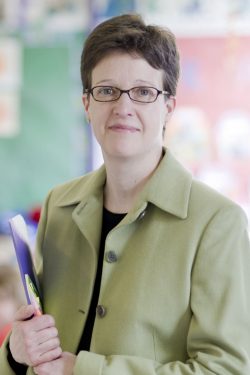 At the Kaiser Permanente Washington Health Research Institute (KPWHRI) I direct a program conducting vaccine and infectious disease research. Since 2007 I have been the Principal Investigator for the National Institutes of Health (NIH)-funded Vaccine and Treatment Evaluation Unit at KPWHRI. I lead a clinical trials team that evaluates investigational vaccines of public health importance, including COVID-19 vaccines. I am also the Principal Investigator for the CDC-funded Vaccine Safety Datalink site at KPWHRI and lead a team that conducts evaluations of the safety of licensed vaccines in routine use in the United States, including COVID vaccines.
What was your education and/or career path? How did you get where you are now?
My father was a diplomat and we spent much of my childhood living outside of the United States. My father's work in the U.S. Foreign Service took our family to posts in countries including Switzerland, Pakistan, Malaysia and India.
I attended high school at the American Embassy School, New Delhi, India. I earned my BS at the College of William and Mary, my MD at the University of Virginia School of Medicine, and my MPH at the University of Washington School of Public Health.
What/who were some of your most important influences that guided you to STEM?
As I mentioned, I attended an international high school. Living abroad gave me a global perspective at a young age and I believe is part of the reason I went into the area of infectious diseases, as the control of infectious diseases is a major contributor to global health.
What is a typical day like in your job
A day in the life for much of the clinic team involves conducting participant visits, both in-person and by phone. Lab staff are always busy processing blood samples. Data entry of all the data gathered during visits is another key task. The phone is ringing frequently with participant questions. While I work closely with my clinic team, I spend much of my typical day on my computer and in meetings. I focus on collaborating with national and international research teams, designing studies and research protocols, sharing research findings, participating on advisory committees, and furthering our understanding of COVID-19. I also focus on sharing research findings in peer-reviewed publications or speaking at conferences or meetings; communicating our findings is a very important part of my job. Finding grants and funding to further our research is yet another area I work on in my typical day. All of this is a team effort.
What do you consider your biggest achievement in STEM?
At the very beginning of the COVID-19 pandemic, my team heard that a vaccine was being developed for this new virus by the NIH and Moderna, and they were seeking a Vaccine and Treatment Evaluation Unit (VTEU) that could conduct the first, phase 1, clinical trial. The Kaiser VTEU team agreed to put our hat in the ring, and we were awarded the study the following week. Launched in March 2020, this trial was the first in the world to begin testing a COVID-19 vaccine.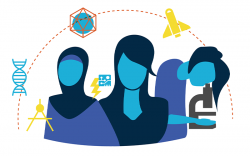 Since the first trial, we have not slowed down and have continued research and are now conducting 5 clinical trials currently under way at KPWHRI to determine if protection from the vaccine is seriously diminished over a longer duration of time; whether booster shots will be needed; and, if so, which vaccines are to effective boosters.
We have also just started new research on a Schistosomiasis vaccine. Schistosomiasis is a major disease caused by parasitic worms. Currently an estimated 200 million are infected and an additional an estimated 800 million people are at risk of acquiring this disease in 74 countries. Currently schistosomiasis is treated with the drug praziquantel, however it's been found to be inadequate in the short term because it has had little impact on the reduction of disease transmission and infection rates continue to be high. Scientist have now developed a vaccine for intestinal schistosomiasis. My team is gearing up for a trial to assess safety and effectiveness of this vaccine.
How do you see science, technology, engineering, and/or math working together in your current job?
Because so much of my daily work is collaborative, I interact with team members who have a wide range of STEM skills. I use STEM in nearly every aspect of my work.
Can you share a fun fact about yourself?
Early in my career, in 1991, after completing my internal medicine residency at the University of Washington, I joined the Epidemic Intelligence Service program at CDC in Atlanta where, as a "disease detective" I conducted investigations of infectious disease outbreaks, which was my first introduction to research.