Meet Elona Trogub, Co-Founder and Co-Owner of Gorge Greens and Notable Woman in STEM
Elona Trogub is the Co-Founder and Co-Owner of
Gorge Greens
, where she grows nutrient-rich microgreens. Her work is part of a larger project to create a year-round waste-to-energy food system in southwest Washington.
Can you explain to us what you do?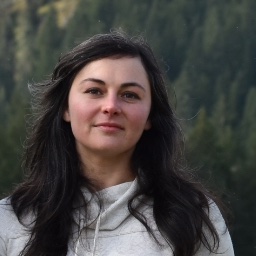 I am part of a team developing a system that captures waste materials and uses them to power year-round food production in special greenhouses. We'll take waste wood, wood that would otherwise go up in smoke in burn piles, and run it through our big gasifier (imagine a huge wood stove) that will put out heat and biochar. Some of the heat will go directly into the greenhouses and the rest will create electricity for the greenhouses. Biochar is a form of soil-building carbon that helps retain moisture and nutrients in the soil, along with many other uses.
In the greenhouses, we produce nutrient-dense foods. Currently, we produce organic microgreens (like sprouts, but a little bigger). Eventually, we would like to produce crops like salad greens, tomatoes, cucumbers, peppers, and strawberries.
What was your education and/or career path? How did you get where you are now?
I started my career off as a chef and switched to organic farming when I realized that our global food system (the food system I depended on as a chef) was relying on exploiting land, water, and people in distant places. Instead, I wanted to be a producer to support our regional food system. I became involved in food system organizing with the BC Food Systems Network and continued my activism when I moved back to the United States. After going back to school for a degree focused on Systems Science, I began working for small farms and food businesses that also shared my dedication to a healthy, regional food system.
I became involved in Gorge Greens and the larger Wind River Project as a greenhouse developer. Our waste-to-energy-to-food system deeply aligns with my values and vision for a resilient regional food system.
What/who were some of your most important influences that guided you to STEM?
During my time at Portland State University, I became a Teacher's Assistant for Dr. David Hall. His "Indigenous and Systems Perspectives on Sustainability" class was wildly influential in helping me see the possibilities of creating more closed-loop systems for meeting our everyday needs.
Rebecca Kneen, an organic farmer, operator of Crannog Ales, and community organizer, along with her mother, Cathleen Kneen (who started the BC Food Systems Network and Food Secure Canada) were mentors during my farming and organizing days. Their life missions were very inspiring, and I felt it important to push myself to develop a career that aligned with the values they instilled in me.
What is your favorite part of your job?
Knowing that people have access to healthy, organic food year-round brings me great joy. I have a knack for problem-solving and love the challenges that come with being a small business owner and a member of the project management team for the larger Wind River Project.
What do you consider your biggest achievement in STEM?
We haven't yet established the full waste-to-energy system, but when it comes online, I will consider that my biggest achievement. 
Are there any stereotypes about women in STEM that you'd personally like to dispel?
There is a stereotype that women are governed by emotion and therefore less able to do their jobs in a focused and serious manner. The reality is that we're all governed by emotion and when it doesn't come out, it festers inside. Historically, showing emotion in the workplace has been taboo. In historically all-male professions, people are often expected to bottle it up. Then, in their personal lives, they require family members to do emotional labor, helping them process their feelings.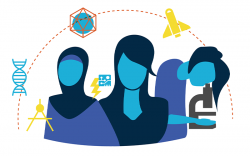 What unique qualities do you think girls and women bring to STEM?
Women and girls account for half the population, yet only a small portion of the decision-makers. We bring a unique perspective that takes into consideration intergenerational health and overall well-being and that has historically been sorely lacking, especially in and for the working class.
How do you see science, technology, engineering, and/or math working together in your current job?
Running a farm and developing a larger circular economy waste-to-energy system requires plenty of science, technology, engineering, and math. From the smallest task, such as rolling up printed labels quickly, to the larger project design, engineering is critical for coming up with affordable, effective solutions.
When it comes to growing plants and marketing their beneficial aspects, I pore over technical papers to understand at a cellular level the effects of our microgreens on the eater. Anytime we are faced with growing issues, we stage experiments and record our data. Record-keeping, along with data analysis, is essential in our business.
My own personal journey with math has been a tenuous one — I was awful at math in school. Coming from a Jewish-Soviet family, I was expected to excel in this area. As it turns out, I typically use math in practical applications and can use formulas to help me navigate the financial side of our business. Now I rely on math daily to help us analyze production and sales data in order to make data-driven decisions.
What would you like to say to young women thinking about beginning a career in STEM?
There's no reason to think you can't pursue STEM even if you're not good at it. Once there's a real-world application for the abstract information you're taught in school, it only takes repetition to become good at whatever the task is.
What do you think is unique about Washington and the STEM careers in our state?
The west coast, in general, is far more emotionally attuned and conscientious than other parts of the US. That often translates to a company ethos that cares more about your well-being than your performance in the moment. It's a breath of fresh air and desperately needed. It allows us to be humans, co-creating the world we want to leave to our children.
Can you share a fact about yourself that some people might not know?
I used to be a goat herdess and cheesemaker.