Critical Care – The Demand For Nurses
Nurses are a vital part of our healthcare system and demand for nursing professionals continues to rise. It's critical that students have access to robust healthcare career pathways programs so Washington has a strong and diverse healthcare workforce that meets current and future needs.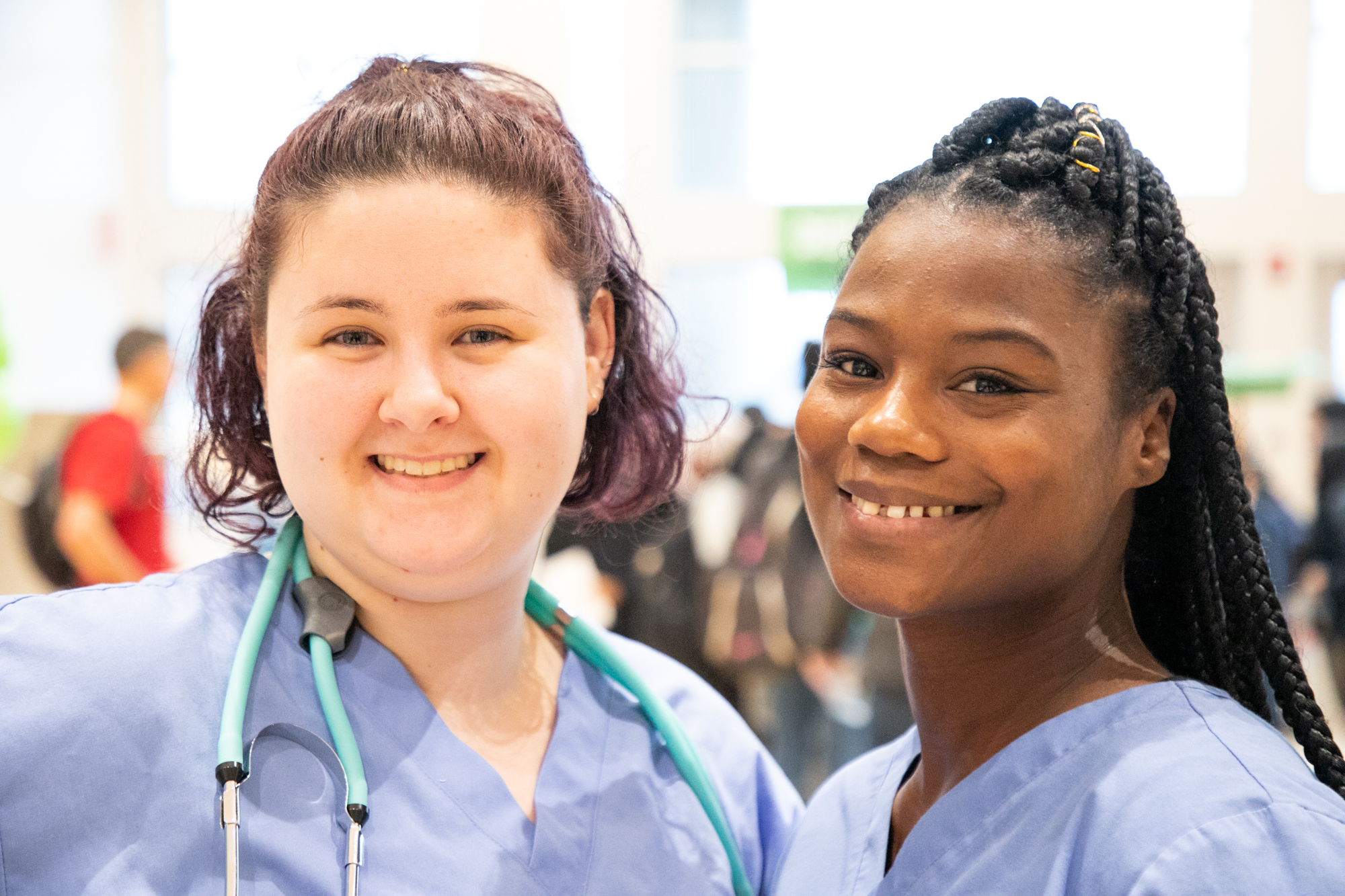 The pandemic shined a light on how critical a community's public health infrastructure is. It also introduced the public to many healthcare careers not widely known prior to the pandemic. Until COVID-19, the demand for respiratory therapists and pulmonologists existed, but few knew what they did. Today, many more people understand the importance of these professions now that they have played such a key role in helping to support those in the hospital suffering from COVID-19.
The vital role of nurses—and the outsized, unrelenting workload and burden they shouldered as hospitals worked to provide critical care during these last two years—was also in the spotlight. Even as the pandemic eased, nurses continued to provide critical support to patients and medical teams through routine procedures and care. Nurses are a key part of the healthcare infrastructure.
What hasn't changed is the shortage of nurses. Within Washington state, demand consistently outpaces the number of nurses in the workforce. And studies have predicted that over one million RNs will retire from the workforce between now and 2030, prompting concerns about the public health infrastructure's capacity to care for the growing 65+ population.
According to the Washington STEM Labor Market and Credential Data Dashboard, created in partnership with the Washington Employment Security Department Labor Market and Economic Analysis Division (LMEA), registered nurses are the single most in-demand job in Washington state, and that demand is expected to rise.
We've continued to see a demand for nurses in every practice area, and we don't expect that to change as we navigate the evolving dynamics of this pandemic. Nurses are powerful leaders, and we've stepped up to take charge of many facets of the coordinated COVID-19 response across the state.
Jennifer Graves, Vice President of Quality and Safety, and Regional Chief Nursing Executive for Kaiser Permanente Washington
The challenges of COVID-19 have only exacerbated this problem. As elective surgeries were put on hold and the population stayed at home, many hospitals and clinics were forced to reduce staff. A 2021 survey of Washington's nursing workforce revealed that more than half of those surveyed had been laid off or furloughed during the pandemic. Of those surveyed, 42% were considering or had made plans to leave nursing.
That's why programs like Career Connect Washington (CCW) and SEIU Healthcare 1199NW Multi-Employer Training and Education Fund (SEIU Training Fund) are critical to ensuring that we are planning for the future. These programs equip students with the resources, training, and pathways to the postsecondary credentials they will need to pursue a variety of healthcare careers.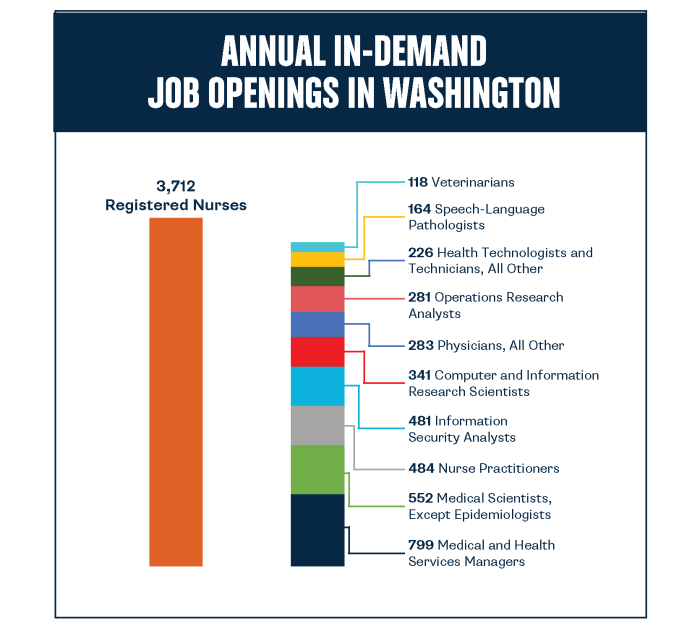 The SEIU Training Fund is a CCW Sector Healthcare Intermediary–a partnership that bridges industry and education and works in collaboration with 14 hospital employers, including Kaiser Permanente, and the largest healthcare union in Washington State to provide and fund professional development opportunities, tuition assistance programs, and a wide variety of educational support services to promote high-quality patient care by cultivating a diverse and skilled healthcare workforce.
"At Kaiser Permanente, our primary mission is to ensure the highest quality of care for all of the communities we serve and create positive practice environments for our staff. Partnerships with SEIU Healthcare 1199NW Multi-Employer Training Fund and other organizations working to build a strong and more diverse healthcare workforce are helping us to innovate and creatively meet the needs of all communities across Washington, now and into the future," Graves said.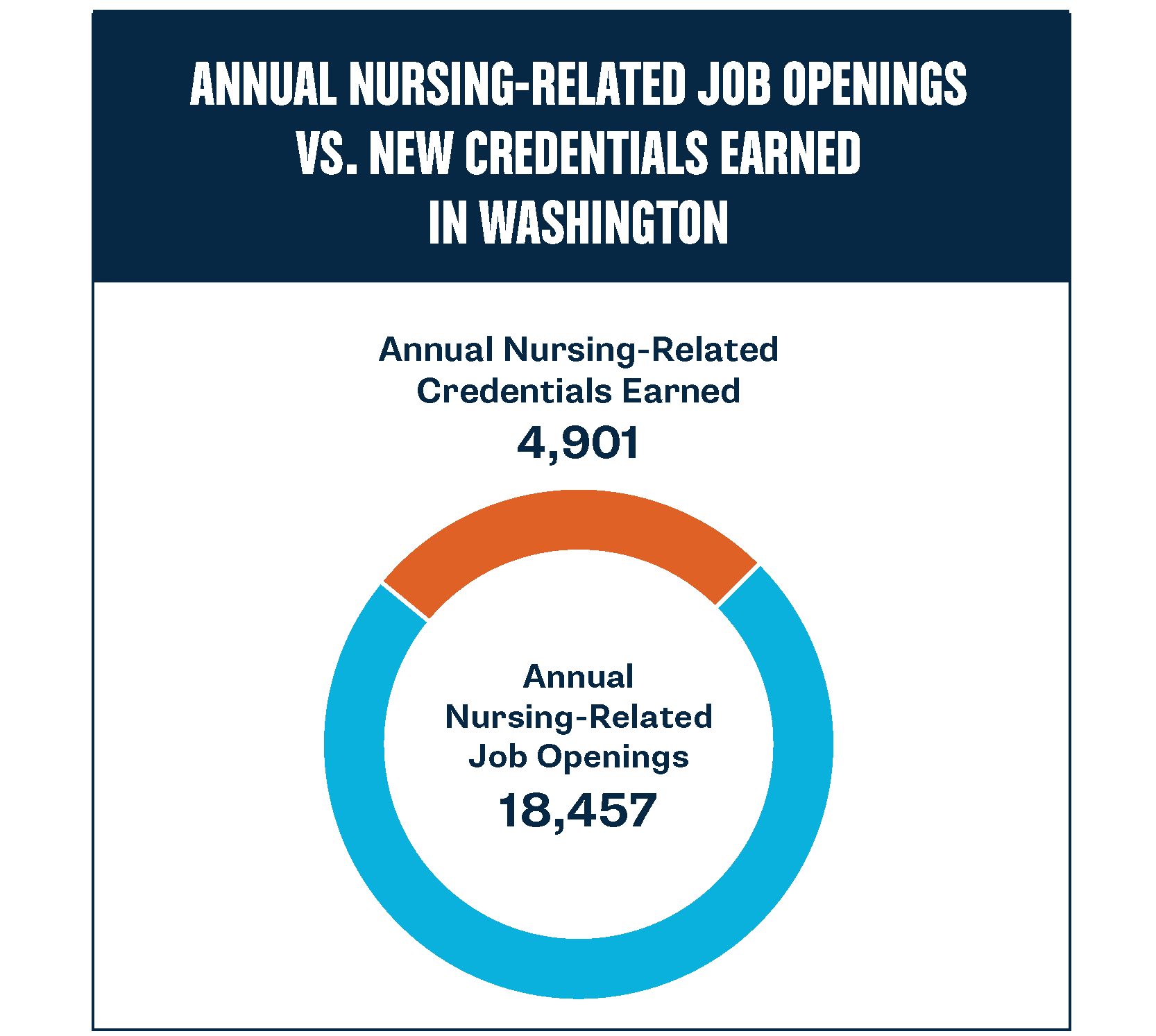 In just the last year 2,517 individuals used the SEIU Training Fund; 74% of them receiving tuition assistance to pursue nursing pathways. The SEIU Training Fund is helping CCW to build and expand healthcare career pathways programs so every young adult, especially students of color, Indigenous students, low-income students, and rural students have access to in-demand healthcare careers. In turn, these partnerships are helping to alleviate the urgent need for nurses and other healthcare professionals. According to Laura Hopkins, Executive Director of the SEIU Healthcare 1199NW Multi-Employer Training and Education Fund, partnerships with healthcare employers are an important facet of the Training Fund's work to improve access to healthcare careers.
We, at the Training Fund, are proud to partner with healthcare employers and SEIU Healthcare 1199NW to provide solutions for diverse people to access and grow in strong healthcare careers. Individuals can learn what career options exist and how to get started in healthcare through a short-term training called IHAP (Introduction to Healthcare and Apprenticeship Program) and continue their career learning through apprenticeship and/or tuition assistance. If they choose to, they could get their Associates, Bachelors, Masters and PhD. in a healthcare field with the support of the Training Fund.
Laura Hopkins, Executive Director, SEIU Healthcare 1199NW Multi-Employer Training and Education Fund
In addition to the direct supports offered to students by career pathways programs like the Training Fund and CCW, data is a critical tool in the work to ensure healthcare systems are strong and diverse. Tools like Washington STEM's CORI and the Labor Market Dashboard help provide baseline information for business and community leaders to plan and assess their progress as they employ different strategies. Programs like CCW, the Training Fund, and partnerships with Kaiser Permanente and others across the region use the data to understand where the shortages are, how many students are pursuing credentials toward in-demand jobs, and what's needed to help regions across Washington plan for the future.