Breaking even: the cost of running a child care business
Most parents in Washington State know finding child care is a struggle, even if you have the resources and cost isn't a factor. This new tool helps potential owners estimate the true cost of operating a child care business.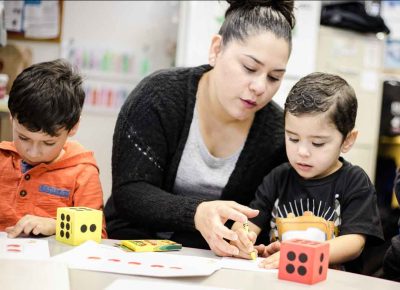 Stop me if this sounds familiar: you are running errands when you get a text. Your school age kid's summer camp was cancelled. And you have no back-up child care. Maybe you're lucky and your workplace will allow you to work from home for a few days. But last year, 23% of working parents reported losing their jobs because of child care issues—with women disproportionately affected at a rate 5 times greater than men.
Most parents in Washington State know finding child care is a struggle, even if you have the resources and cost isn't a factor. Only 2 of 37 counties in Washington meet the local need for child care. Low wages and slim profit margins have long plagued the industry and discouraged many newcomers from starting a child care business. It's hard to make a profit when labor costs are 80% of operating expenses and are based on fixed staffing ratios required to provide a minimum standard of care for young children.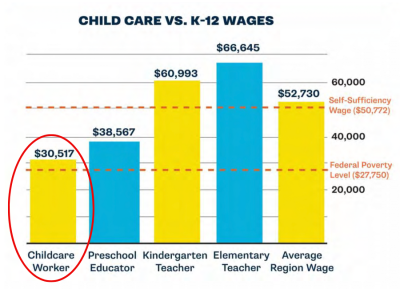 In response to this chronic shortage of child care businesses, Washington STEM developed a new Child Care Business Feasibility Estimator ("the Estimator", also available in Spanish) designed to help potential child care business owners understand the likely cost, revenue, and feasibility for their child care business idea, and help them succeed and improve access to child care in Washington State.
The "Estimator" drills down on real costs
Washington STEM works in education at the "systems level", which means we look at how investments in educational institutions impact student outcomes. We know that having access to quality early learning and care is a crucial foundation for future academic success. However, one-third of Washington children are not math-ready by the time they get to kindergarten, and they fall further behind in school each year. In order to change these outcomes, all children need access to quality early learning.
In the summer of 2022, Washington STEM partnered with the Department of Commerce to develop the initial concept of a child care business feasibility calculator that includes county-specific data from state agencies. Dr. Soleil Boyd, PhD is Senior Program Officer for Early Learning & Care at Washington STEM. She said, "Every child in Washington State deserves to have access to high quality child care. The Estimator includes calculations for the number of children, tuition rates, insurance and program costs. It also includes costs for "quality", which include resources for staff professional development and time for planning and parent-teacher conferences, as well as having materials for children with special needs.
The estimator also includes real labor costs for teaching and non-teaching staff, revenue from child care subsidies, and includes guidance on square footage and other regulations, depending on whether the facility in a center or based out of a family home.
Boyd said, "This is a tool that early learning advocates have been calling for, for years—something that lays bare the true costs and extremely thin margins of running a child care business. Not only so potential new child care businesses have the best chance to survive—but also to point out the gaps in the industry, where increased investment at the state level and above can help more businesses stay open."
Marie Keller is the Director of Facility Growth and Development at Imagine institute, a nonprofit that supports child care business with professional development. She said, "In order to operate a child care business successfully means overcoming a lot of challenges. You have to be really creative and flexible to make your business work. The Estimator can help with this."
Investing in Child Care: a holistic approach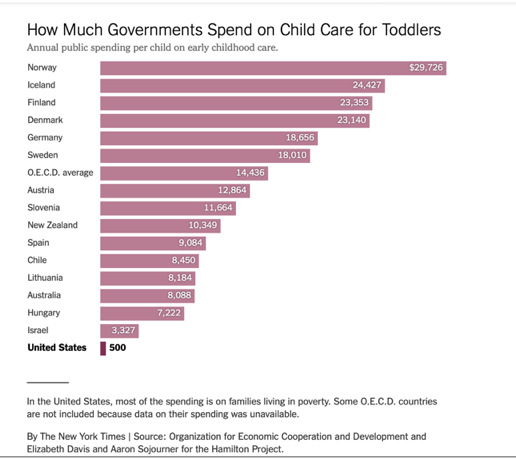 A nationwide report on childhood health and education indicators, Kids Count, states that despite $75 million in pandemic-related economic stimulus— which saved 3 million child care slots nation-wide—the lack of long term investment means the industry is still not meeting demand, costing the nation an estimated $122 billion a year through lost earnings, productivity and tax revenue. The U.S. spends only $500 per child each year on early care and education. Other industrialized nations spend 28 times this amount, on average $14,000 per child per year.
Boyd said having access to child care is a systemic issue. "We can't expect parents to solve the unsolvable –we need a statewide systemic response, such as raising subsidy rates that cover the true cost of care."
This summer, the Association of Washington Businesses is engaging with employers across the state and talking to lawmakers to make progress on this issue, so children are accessing quality child care, and their parents can focus on work."
Visit the Child Care Business Feasibility Estimator here, or read Frequently Asked Questions to learn more.


###
Early Learning Suite of Tools
Washington STEM advocates for cradle to career education improvements, starting with Early Learning. Investments in the early learning system will transform student outcomes. See more in our Suite of Early Learning Tools: