2023 Legislative Advocacy Season
And…we're back! After we worked partially remote over the last three years, the 2023 legislative session in Olympia was filled with 105 days of reconnections. It was great to collaborate with educators, business leaders, and community members across the state, producing investments and legislation that center Washington students of color, rural students, students experiencing poverty, and girls.

Legislative Priorities and Outcomes
Washington STEM brought together a broad set of partners across the state to champion policies that are equitable and feasible in a legislative cycle. In 2023, we focused on three policy priorities: Early Learning System Improvements, Applying Dual Credit, and the transition from High School to Postsecondary, also known as Career Pathways.
Early Learning
Early Learning sparks curiosity and provides foundational math and science literacy before kindergarten to give students the best start possible in school and life. Our vision is that every young child develops a positive math identity, participates in high-quality early STEM learning, and has access to the best early learning environments possible.
Priority: Support the equitable implementation of the Fair Start for Kids Act through improvements to agency measurement and transparency. Support community efforts for increased investments to develop the early childcare workforce.
Outcomes:
Secured Early Learning Data Visualization Proviso. Funding allocated to the Department of Children Youth and Families (DCYF) in partnership to produce public-facing regionalized data dashboards and reports. These will measure changes in equitable access resulting from programs and grants administered by DCYF. Check out current dashboards here.
Passed SB 5225. Increasing Access to the Working Connections Childcare Program: More families across the state will have access to childcare subsidies including immigrant families, child care employees, and those participating in therapeutic courts.
K-12
A strong K-12 STEM experience is a critical component to ensuring young Washingtonians are informed and thriving global citizens equipped for multiple viable career pathways of their choosing. Dual credit is a key lever we can push in order to ensure Washington students are career- and future-ready and it is vital that all students, particularly those who have historically been excluded, have access to these opportunities. Dual credit options can come in the form of a course itself or by earning a passing score on an exam.
Priotity: Increase equitable completion and application of dual credit by bridging the gaps between K-12 and higher education systems.
Outcomes:
Passed SB 5048: Eliminating fees for College in the High School. More students across Washington will have increased access to and be able to apply completed College in the High School dual credit by removing course fees, which have been a cost barrier for students.
Passed HB 1316: Expanding access to dual credit programs. Running Start Students can earn up to 10 credits during the summer term increasing access and retention to dual credit.
Funded CTE Dual Credit Pilot. Funding allocated to the State Board for Community and Technical Colleges (SBCTC) for a pilot program to increase career and technical education dual credit participation and credential attainment in professional technical programs.
Career Pathways
A robust cross-sector career pathways system is key to preparing students for the most in-demand, high-paying careers in our state. Washington STEM has formed research-practice partnerships with schools and systems-level partners throughout the state to create a scalable approach to assessing and creating a plan for improving postsecondary readiness for all students.
Our research and that of our partners indicate that 90% of high schoolers in Washington State aspire to pursue some type of postsecondary education, that is, education beyond high school in the form of a 2- or 4-year degree, apprenticeship, or certificate opportunity.
Priority: Improve the utility of postsecondary- and career-readiness strategies and tools through evidence and community voice.
Outcomes:
Passed SB 5243. Directs OSPI to select and implement a statewide, online High School and Beyond Platform (HSBP) used by districts, students, and families as a critical tool in changing patterns and creating well-lit pathways to postsecondary.

Advocating for implementation of HSPB digital statewide platform. Washington STEM successfully advocated alongside partners for the inclusion of existing community and regional network partners in the analysis, selection and implementation of a digital statewide platform. There are many best practices already being implemented around HSBP, and there are meaningful, trusted regional partnerships between districts, educators, industry, students and families who have worked to improve usage and efficacy that are deeply aligned with this bill. They include: connecting students with employers, scaling best practices in regions and supporting districts, and involving parents and families in understanding and utilizing the HSBP as a tool for postsecondary planning.

Advocated for investments in Career Connect Washington. Increased funding allocated to regional CCW Networks and Intermediaries bring together education, community, and business partners to expose and prepare students for exciting careers in high-demand industries in which STEM fuels innovation, economic mobility, and job growth.
Network Partners Map
Washington STEM partners with 10 regional Networks and the Village STREAM Network to develop programs and goals specific to local communities. To learn what region serves your local community, check the regional map below.


To learn more about what each regional STEM Network partner is doing to ensure all children have access to the transformational possibilities that STEM skills and education beyond high school can provide, check out the impact stories a little further down.
Apple STEM Network
Capital STEM Alliance
Career Connect Northeast
Career Connect Southwest
Village STREAM Network
Mid-Columbia STEM Network
Northwest Washington STEM Network
Snohomish STEM Network
South Central Washington STEM Network
Tacoma STEAM Network
West Sound STEM Network
Apple STEM Network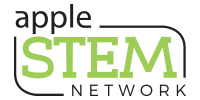 The Apple STEM Network, serving the North Central region of Washington, is co-directed by the North Central Educational Service District and NCW Tech Alliance. The Network's business, education, and community partners are working to close credential attainment gaps, especially for rural communities, students of color, and students from low-income families. Learn more about Apple STEM's programs at their website.
Capital STEM Alliance and STEMKAMP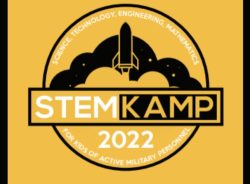 The Capital STEM Alliance was established in 2017 to organize school, business, and community organizations interested in enhancing career readiness and STEM learning opportunities in the region consisting of Grays Harbor, Lewis, Mason, Pacific, and Thurston counties. New in the Capital STEM Alliance: STEMKAMP 2022 was hosted at Yelm Middle School in August 2022. The camp introduced students in grades 3-8 to a wide range of STEM activities and careers. It also included "Family Day"—an opportunity for STEM professionals to share information about exploring STEM careers.
Career Connect Northeast

Career Connect Northeast is working to transform and expand STEM education opportunities for all youth in the region. Their goal is to reduce the STEM skills gap and grow Washington's economy. Check out the STEM news in their region.
Career Connect Southwest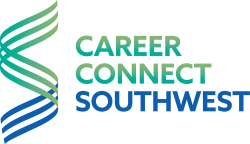 Career Connect Southwest (CCSW) consists of three networks across six counties in southwest Washington. CCSW is committed to working with education, business, and community partners to develop a skilled workforce that contribute to a strong economic future in local communities. With support from Lanxess, Career Connect Southwest is providing valuable summer internships to over 40 students across southwest Washington, with a focus on students from rural areas.
Read about how this sponsorship, as well as the participation of local businesses, is making career pathways programming possible.
Central Puget Sound STEM Partners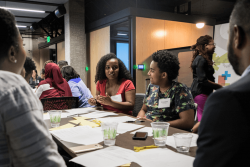 In King County, Washington STEM brings educators, business leaders, STEM professionals, philanthropists, and community leaders together to support STEM learning from an early age and to open career pathways. Our work in this region is defined by a key group of partners and work areas that focus on Career Pathways and Early Learning.
Mid-Columbia STEM Network

Based in the Tri-Cities, the Mid-Columbia STEM Network serves the Southeast region of Washington. You're invited to read the fall edition of the Network's newsletter, The Connector, to learn more about how the Network is working to drive career-connected learning, equity and opportunity throughout the Mid-Columbia region.
Northwest Washington STEM Network

The Northwest Washington STEM Network is based at ESD 189 in Anacortes and serves a region that includes Skagit, Whatcom, Island, and San Juan counties. It aligns K-12 education, higher education, community, and business partners to support STEM learning and opportunity in the region. Visit the Network website to learn more.
Snohomish STEM Network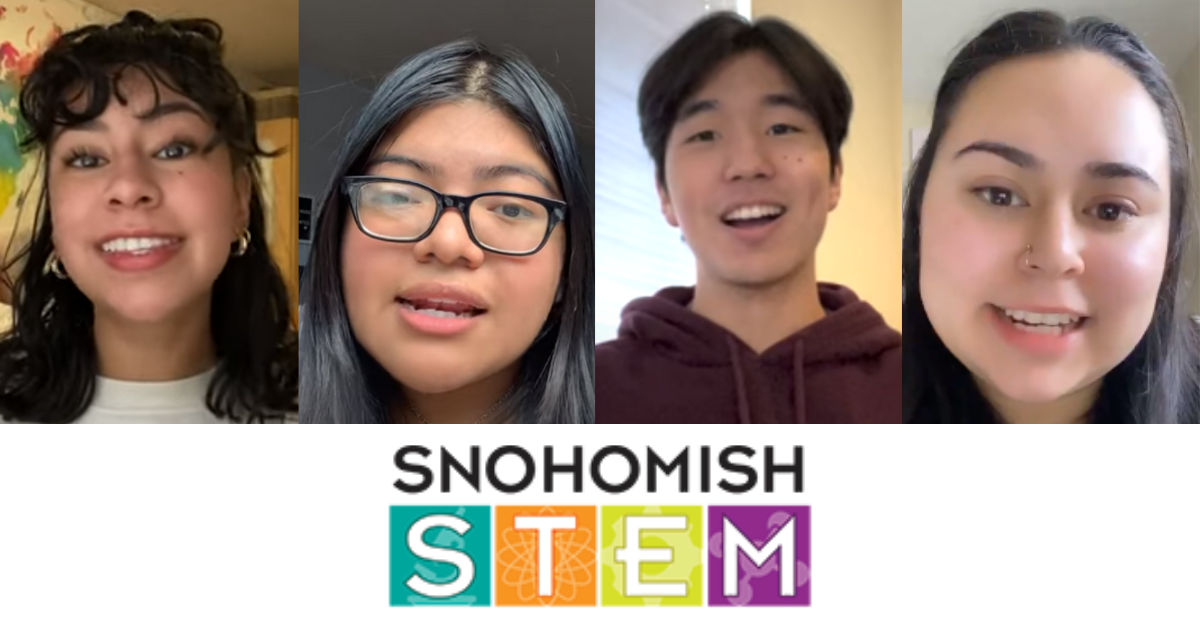 Do you or someone you know need help to pay for your post-secondary education? Check out these shortform videos crafted by Snohomish STEM Network and partners to learn how the process works. Washington State has one of the most generous financial aid programs in the country, but each year, $50 million in financial aid is left on the table. These videos — created in partnership with College Success Foundation Northwest Coastal, NW Washington STEM Network, and Futures Northwest — aim to help more students access the financial support to make their education dreams come true.
South Central Washington STEM Network

South Central Washington STEM is a region-wide network of cross-sector stakeholders that collaborates to ensure that all of the region's youth have access to a high-quality STEM education and career connected learning opportunities. Visit them online for more information.
Tacoma STEAM Network and #TacomaMath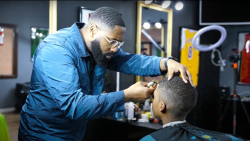 The #TacomaMath initiative highlights mathematics around Tacoma to show that math is for everyone. The newest "Special Edition" video, sponsored by Comcast's Black Employee Network (BEN), shows how you can apply math at your next haircut with Master Barber Elijah Benn. Watch the video!
West Sound STEM Network

West Sound STEM Network's blog about a recent STEM Café, focused on strategies for teachers to help their students explore post-secondary healthcare career and education options. Read more on their website.
2023 Advocacy Season in pictures